»

Recipes

»

Indian

»

Korma

»

Mughlai Navratan Korma
Mughlai Navratan Korma Recipe
Mughlai Navratan Korma has a luscious taste. Mughlai Navratan Korma gets its taste from vegetable mixed with nuts and flavored with spices. Mughlai Navratan Korma is loved by vegetarian food lovers.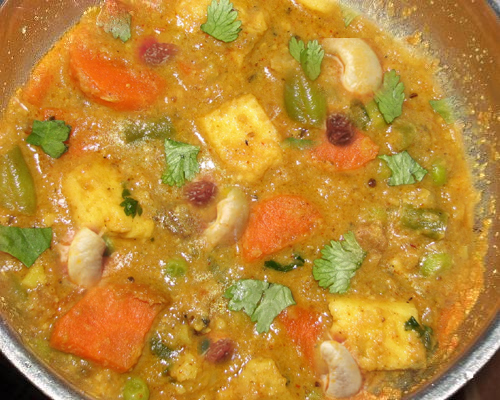 Ingredients
Vegetables

4 Cup (64 tbs)

(Potatoes, Carrots, Green Peas, Green Beans, Cauliflower, Capsicum, Cabbage, Mushrooms. Onions Or Any Other Combination Of 9 Vegetables)

Paneer

1 Cup (16 tbs)

Tomato

1 Cup (16 tbs)

Onion

1⁄2 Cup (8 tbs)

Garlic ginger paste

2 Teaspoon

Cumin powder

1⁄2 Teaspoon

Turmeric powder

1⁄2 Teaspoon

Red chili powder

1 Teaspoon

Coriander powder

1 Teaspoon

Garam masala powder

1 Teaspoon

Thick cream

2 Tablespoon

Cashew nuts

1 Tablespoon

Raisins

1 Tablespoon

Coriander leaves

2 Tablespoon

Oil

3 Tablespoon
Nutrition Facts
Serving size: Complete recipe
Calories 1368 Calories from Fat 664
% Daily Value*
Total Fat 75 g116.1%
Saturated Fat 16.9 g84.7%
Trans Fat 0 g
Cholesterol 63.7 mg
Sodium 1623.8 mg67.7%
Total Carbohydrates 134 g44.8%
Dietary Fiber 34 g136%
Sugars 28.6 g
Protein 57 g113.5%
Vitamin A 699.7% Vitamin C 177.1%
Calcium 56.3% Iron 60.4%
*Based on a 2000 Calorie diet
Directions
Fry onions in 3 tbsp hot oil till golden brown.
Add ginger and garlic paste and fry for 1 minute.
Add salt, cumin, turmeric, chilly and coriander powder and fry for 2 minutes.
Add garam masala powder.
Now add grated tomatoes.
Cook on low heat for 5 minutes, stirring frequently.
Add water and simmer till the gravy is thick.
Add all the vegetables, paneer and dried fruit.
Stir gently and simmer for 5 minutes.