»

Recipes

»

Indian

»

Mudaliar Special Okra Fry
Mudaliar Special Okra Fry Recipe
A typical Mudaliar dish. It is simple to make, but the specialty about Mudaliar style of cooking is that one distinct ingredient that gives a normal dish that extra zing in terms of taste.The roasted sesame seeds gives this dish a subtly distinct flavour.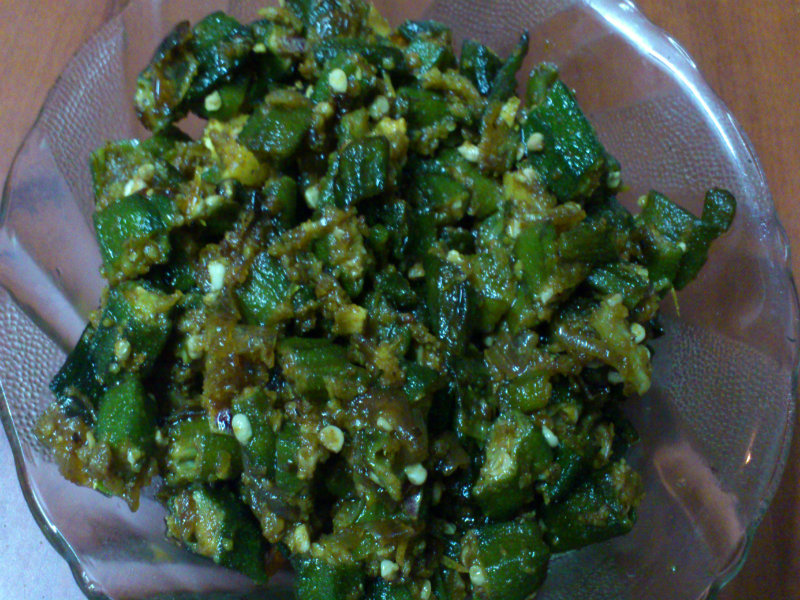 Summary
Preparation Time
10 Min
Cooking Time
15 Min
Ready In
25 Min
Health Index
Healthy
Ingredients
Okra

250 Gram

, cut into small pieces

Onion

1 Medium

, chopped finely

Ginger garlic paste

1⁄2 Teaspoon

Chili powder

1 Teaspoon

Turmeric powder

1⁄4 Teaspoon

Mustard seeds

1⁄2 Teaspoon

Cumin seeds

1⁄2 Teaspoon

Curry leaves

6 Medium

Sesame seed

1 Tablespoon

, roasted

Coriander seeds

1 Teaspoon

Dry coconut

1 Teaspoon

, grated

Oil

2 Tablespoon

Salt

To Taste
Nutrition Facts
Serving size
Calories 150 Calories from Fat 95
% Daily Value*
Total Fat 11 g16.7%
Saturated Fat 1.9 g9.4%
Trans Fat 0 g
Cholesterol 0 mg
Sodium 143.1 mg6%
Total Carbohydrates 13 g4.3%
Dietary Fiber 4.5 g18.1%
Sugars 3.2 g
Protein 3 g6.3%
Vitamin A 12.3% Vitamin C 30.4%
Calcium 12.2% Iron 12.2%
*Based on a 2000 Calorie diet
Directions
GETTING READY
1.Grind the roasted sesame seeds along with grated dry coconut and coriander seeds, and set it aside.

MAKING
2.Heat oil in a pan, add mustard seeds, cumin seeds, curry leaves.
3.When it splutters, add the onion and ginger garlic paste and sauté until it turns golden brown.
4.Add the okra pieces, chili powder, turmeric powder and salt and stir fry for 2 minutes and cover it with a lid for another 2 minutes.
5.Open the lid and add the ground powder and stir fry for another 5 minutes.

SERVING
6.Serve it hot with roti, phulka.