»

Recipes

»

Moussaka
Moussaka Recipe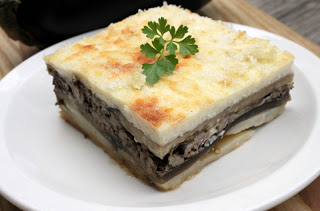 Ingredients
| | | |
| --- | --- | --- |
| | Lean minced meat | 1 Pound |
| | Onion | 1 Large |
| | Aubergines | 3 Large |
| | Butter | 2 Tablespoon |
| | Flour | 2 Tablespoon |
| | Tomatoes | 1⁄2 Pound |
| | Olive oil | 3 Tablespoon |
| | Garlic | 1 Clove (5 gm) |
| | Stock | 3 Tablespoon |
| | Seasoning | To Taste |
| | Milk | 1⁄3 Pint |
| | Grated cheese | 3 Ounce |
Nutrition Facts
Serving size: Complete recipe
Calories 2566 Calories from Fat 1426
% Daily Value*
Total Fat 161 g247.2%
Saturated Fat 64.3 g321.6%
Trans Fat 3.4 g
Cholesterol 437.1 mg
Sodium 1800.5 mg75%
Total Carbohydrates 154 g51.2%
Dietary Fiber 55.7 g222.6%
Sugars 60.8 g
Protein 150 g299.9%
Vitamin A 71.2% Vitamin C 139.6%
Calcium 141.9% Iron 89.7%
*Based on a 2000 Calorie diet
Directions
Put half the oil into one pan, heat it and brown the minced meat and chopped onion.
Put the rest in another pan and lightly fry the peeled and finely sliced aubergine in it.
Cook ingredients of both pans for about 10 minutes.
Put meat into a fireproof shallow dish.
Moisten with the stock and season with salt and cayenne pepper.
Arrange cooked aubergine on top.
Skin and slice the tomatoes, and cook for a few minutes in the oil in which the aubergines were cooked.
Put the well crushed clove of garlic in with them.
Put the tomatoes on top of the aubergines.
Now make the cheese sauce by melting the butter, stirring in the flour and allowing it to cook for a minute or two.
Add the milk, bring to the boil, add the grated cheese and stir.
Season to taste, and pour over the prepared dish.
A further scattering of grated cheese can top all, if desired.
Bake in a moderate oven for about 30 minutes.
It won't spoil if it is kept waiting a little while, and it is a dish which is good natured enough to be made in advance and heated when needed.
If you prefer a green salad to hot green vegetables, with this dish, it is equally good.
One of the most spectacular lamb dishes is Roast Crown of Lamb.
Better still, it is quite simple to cook, and also inexpensive, but you must have the co operation of your butcher.
You are really cooking cutlets, of course, so allow 2, or possibly 3, for each person.
The crown consists of two best end necks of lamb, each having 6 or 7 cutlets.
Let the butcher know a day or two in advance and he will make the crown by tying the two pieces of neck together, and cutting part way between each cutlet for easy carving at the table.
Brush the joint with melted butter, and choose the type of stuffing from among these suggestions.