»

Recipes

»

Muffin

»

Morning Glory Corn Muffins
Morning Glory Corn Muffins Recipe
these morning glory corn muffins are perfect for breakfast. Simply baked with cornmeal and milk along with sugar, these muffins are easy to prepare and will keep you full for a long time.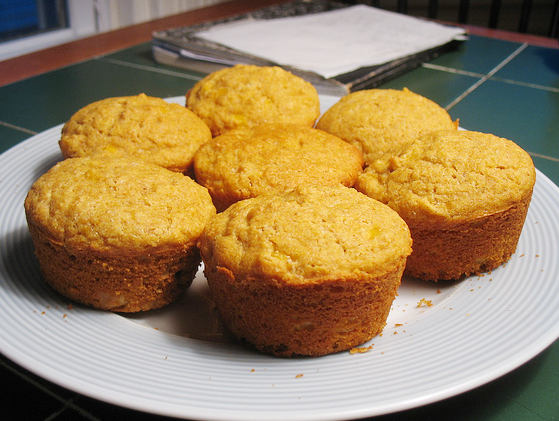 Ingredients
All-purpose flour

1 Cup (16 tbs)

(Around 250 milliliter)

Yellow cornmeal

3⁄4 Cup (12 tbs)

(Around 175 milliliter)

Granulated sugar

3 Tablespoon

(Around 45 milliliter)

Double-acting baking powder

1 Tablespoon

(Around 15 milliliter)

Salt

1 Teaspoon

(Around 5 milliliter)

Egg

1

Milk

3⁄4 Cup (12 tbs)

(Around 175 milliliter)

Butter/Margarine

1⁄3 Cup (5.33 tbs)

, melted (Around 75 milliliter)
Nutrition Facts
Serving size: Complete recipe
Calories 1784 Calories from Fat 679
% Daily Value*
Total Fat 77 g117.7%
Saturated Fat 43.4 g217.2%
Trans Fat 0 g
Cholesterol 389.7 mg
Sodium 3310.1 mg137.9%
Total Carbohydrates 245 g81.5%
Dietary Fiber 11.3 g45.4%
Sugars 54.6 g
Protein 33 g66.5%
Vitamin A 45.8% Vitamin C
Calcium 136.1% Iron 69.2%
*Based on a 2000 Calorie diet
Directions
In a large bowl with a fork, combine flour, cornmeal, sugar, baking powder and salt.
Make a well in the center.
In another bowl with a fork, mix together egg, milk and butter.
Add to flour mixture, stirring just until flour is moistened.
Do not overmix.
Spoon batter into prepared muffin cups (about 12 medium ones), filling cups three-quarters full.
Bake in a preheated oven at 400 degree F for 20 minutes or until lightly browned.
Image Courtesy :
http://www.flickr.com/photos/moyix/5640956127/

Anonymous says :
OK..what to set the temp to on the oven and how many muffins does this make???
Posted on:
12 June 2012 - 9:20pm
Hi, bake the muffins at 400 degree F for about 20 -25 minutes. This recipe yields 12 medium size muffins. If you make large ones you will get about 6-8. Here is a fantastic recipe for morning glory muffins along with a video to help you follow direction. http://www.ifood.tv/recipe/morning_glory_muffins
Posted on:
14 June 2012 - 2:15am