»

Recipes

»

American

»

Mormon

»

Mormon Shrimp Cheese Ball
Mormon Shrimp Cheese Ball Recipe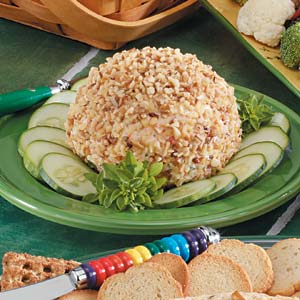 Ingredients
Cream cheese

16 Ounce

Sharp old english cheese spread

5 Ounce

Sharp cheddar cheese

1⁄2 Cup (8 tbs)

Lemon juice

1 Tablespoon

Garlic salt

1 Teaspoon

Chives

1 Teaspoon

, fresh frozen or dried

Small shrimp

7 Ounce

, drained

Nuts/Parsley

1 Cup (16 tbs)
Nutrition Facts
Serving size: Complete recipe
Calories 3317 Calories from Fat 2590
% Daily Value*
Total Fat 288 g443.7%
Saturated Fat 133.7 g668.7%
Trans Fat 0 g
Cholesterol 977.2 mg
Sodium 6525.2 mg271.9%
Total Carbohydrates 62 g20.8%
Dietary Fiber 10.4 g41.6%
Sugars 30.1 g
Protein 136 g271.9%
Vitamin A 171.6% Vitamin C 23%
Calcium 201.9% Iron 36.6%
*Based on a 2000 Calorie diet
Directions
MAKING
1. In a dry bowl, combine the cheeses.
2. Use a wooden spoon to beat the mixture thoroughly until, soft, smooth and creamy.
3. Add remaining ingredients other than the nuts or parsley and beat well until blended.
4. Shape the mixture into 2 balls.
5. Spread nuts or parsley on a bread board.
6. Roll cheese balls in this mixture until they are evenly coated.
7. Refrigerate the cheese balls for at least 1/2 hour, or until firm.

SERVING
8. Serve them with crackers and fruit on a cheese board, providing a cheese knife to spread the cheese.
9. You can also gift wrap the cheese balls after wrapping them in plastic and include in gift hampers.

Anonymous says :
Did I miss when you put in the shrimp?
Posted on:
17 April 2012 - 4:32pm
Hi, the shrimp goes into the bowl with all the other ingredients except the nuts or parsley. Hope you try the recipe. It is yummy.
Posted on:
20 April 2012 - 5:31am