»

Recipes

»

Molasses

»

Molasses Pancakes
Molasses Pancakes Recipe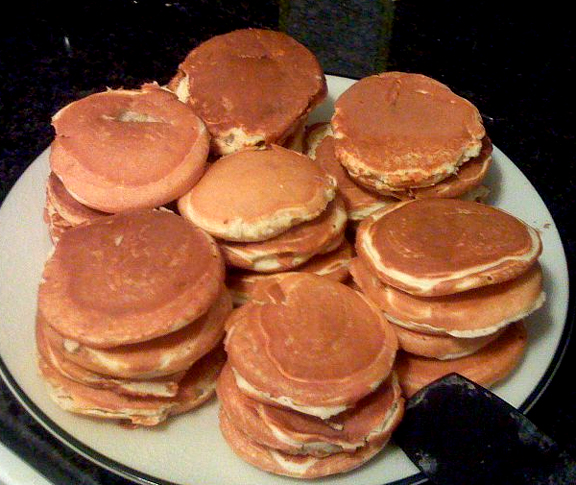 Ingredients
Wheat flour

250 Milliliter

(1 Cup)

Bran

60 Milliliter

(1/4 Cup)

Lecithin granules

15 Milliliter

(1 Tablespoon)

Baking soda

1 Teaspoon

Buttermilk

425 Milliliter

(1 3/4 Cups)

Medium unsulfured molasses

15 Milliliter

(1 Tablespoon)

Egg whites

2

, beaten
Nutrition Facts
Serving size
Calories 440 Calories from Fat 58
% Daily Value*
Total Fat 7 g10.2%
Saturated Fat 1.2 g6%
Trans Fat 0 g
Cholesterol 0 mg
Sodium 494.9 mg20.6%
Total Carbohydrates 84 g28.1%
Dietary Fiber 13.2 g53%
Sugars 3.5 g
Protein 22 g44.5%
Vitamin A 0.1% Vitamin C
Calcium 5.2% Iron 25.4%
*Based on a 2000 Calorie diet
Directions
GETTING READY
1) Beat egg whites.
2) In a large bowl, place all the dry ingredients and mix well until all lumps are broken.

MAKING
3) According to the thickness desired, add buttermilk to the dry mixture.
4) Add egg whites and molasses.
5) On lightly oiled hot skillet, pour the batter and cook the pancakes.
6) In a serving platter, transfer the pancakes.

SERVING
7) Serve pancakes with fresh fruits as a hearty breakfast.
Image Courtesy :
http://en.wikipedia.org/wiki/File:Silver_dollar_pancakes.JPG