»

Recipes

»

Bread

»

Moist Banana Bread
Moist Banana Bread Recipe
You would just love this moist banana bread. It is so easy to make that even your kids can be involved at every stage. Make it a fun activity at home with the entire family.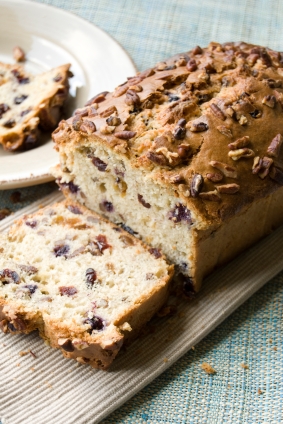 Ingredients
Whole wheat flour/All purpose flour

1⁄4 Cup (4 tbs)

Baking powder

1⁄2 Teaspoon

Baking soda

1⁄2 Teaspoon

Ripe bananas

2

, mashed (peeled)

Sugar

4 Tablespoon

Egg

1

Cooking oil

1 Tablespoon

Vanilla extract

5 Drop

Chopped nuts

1⁄2 Cup (8 tbs)

(nuts like pecan and fruits like blueberries)
Nutrition Facts
Serving size
Calories 152 Calories from Fat 38
% Daily Value*
Total Fat 4 g6.6%
Saturated Fat 0.81 g4.1%
Trans Fat 0 g
Cholesterol 42.3 mg
Sodium 191.1 mg8%
Total Carbohydrates 28 g9.3%
Dietary Fiber 2 g8.2%
Sugars 18 g
Protein 3 g5.3%
Vitamin A 1.6% Vitamin C 7%
Calcium 4.7% Iron 3.4%
*Based on a 2000 Calorie diet
Directions
Sieve together the dry ingredients. Add in the other ingredients one by one and beat well. Pour the batter into a pre-greased cake tin and bake at 350 degrees for 40-45 minutes or till done. Slice it and serve as a tea time snack.