»

Recipes

»

Bread

»

Moist Banana Bread
Moist Banana Bread Recipe
You would just love this moist banana bread. It is so easy to make that even your kids can be involved at every stage. Make it a fun activity at home with the entire family.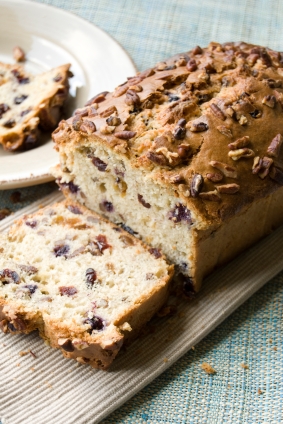 Ingredients
¾ cup flour (I prefer to use whole wheat flour for the health benefits that it offers, you could substitute it for all purpose flour if you do not particularly like the taste of whole wheat flour)

Baking powder

1/2 Teaspoon

Baking soda

1/2 Teaspoon

2 ripe bananas, peeled and mashed

Sugar

4 Tablespoon

Egg

1

Cooking oil

1 Tablespoon

Vanilla extract

5 Drop

Chopped pecan

1 Cup (16 tbs)
Directions
Sieve together the dry ingredients. Add in the other ingredients one by one and beat well. Pour the batter into a pre-greased cake tin and bake at 350 degrees for 40-45 minutes or till done. Slice it and serve as a tea time snack.