»

Recipes

»

Mixed Vegetable Pulao
Mixed Vegetable Pulao Recipe
The mixed vegetable pulao is a rice preparation prepared with fragrant basmati rice and vegetables. Cooked in a microwave, the mixed vegetable pulao is made with potatoes, cauliflower, peas and beans and flavored with cumin, red chilies, coriander powder and garam masala.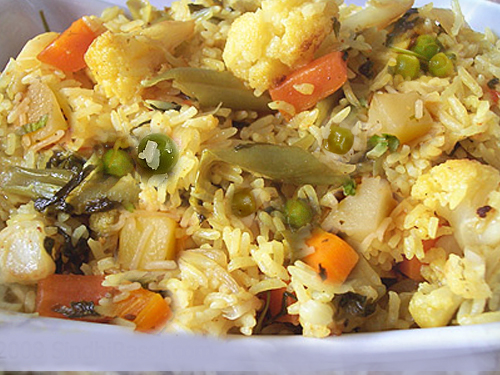 Ingredients
Basmati rice

400 Gram

Carrots

100 Gram

, cut into small pieces

Potato

100 Gram

, cut into small pieces

Cauliflower flowerets

100 Gram

, cut into small pieces

Shelled peas

100 Gram

(Fresh Or Frozen)

French beans

50 Gram

, cut into small pieces

Water

650 Milliliter

Cumin seeds

1 Teaspoon

Red chili powder

1 1⁄2 Teaspoon

Garam masala powder

1 1⁄2 Teaspoon

Coriander powder

1 Teaspoon

Turmeric powder

1⁄4 Teaspoon

Salt

To Taste

Oil/Ghee

3 Tablespoon
Nutrition Facts
Serving size: Complete recipe
Calories 2202 Calories from Fat 471
% Daily Value*
Total Fat 54 g82.4%
Saturated Fat 7 g35.2%
Trans Fat 0 g
Cholesterol 0 mg
Sodium 778.8 mg32.5%
Total Carbohydrates 384 g127.9%
Dietary Fiber 24.7 g98.8%
Sugars 14.9 g
Protein 44 g88.8%
Vitamin A 360% Vitamin C 198.3%
Calcium 37.9% Iron 60.2%
*Based on a 2000 Calorie diet
Directions
Wash and soak the rice in water for 1/2 an hour.
Drain and keep aside.
Heat oil, in a 2 litre deep dish on 100% power for 1:30 minutes.
Add the cumin seeds and microwave on 100% power for 30 seconds.
Add the rice, red chilli powder, turmeric powder, coriander powder, salt and all the vegetables and water.
Mix and microwave, partially covered (with a cling film lid) on 100% power for 12-14 minutes.
Stir once during cooking.
Allow to stand covered for 10:00 minutes before serving.