»

Recipes

»

Fruit

»

Mixed Fruit Mold
Mixed Fruit Mold Recipe
This mixed fruit mold is a dessert fruit mold that can be served as a refreshing and savory end to a family meal. Prepared with mixed fruits, flaored gelatin and carbonated lime beverage, the fruit mold is chilled and served on salad greens. It is a perfect family summer dessert recipe.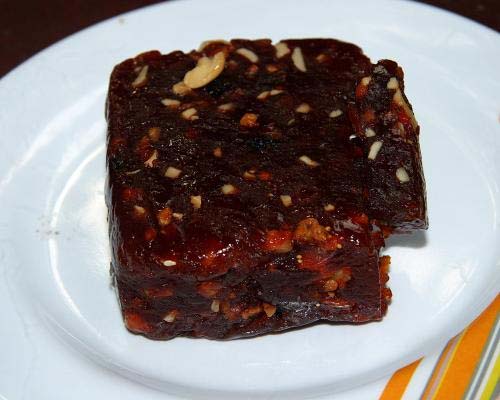 Ingredients
Frozen mixed fruit

12 Ounce

, thawed (1 Package)

Gelatin

3 Ounce

(1 Package, Raspberry Flavored)

Lemon lime carbonated beverage

7 Ounce

(1 Bottle/ 1 Cup 16 Tablespoon)
Nutrition Facts
Serving size
Calories 179 Calories from Fat 1
% Daily Value*
Total Fat 0.17 g0.27%
Saturated Fat 0.04 g0.18%
Trans Fat 0 g
Cholesterol 0 mg
Sodium 50.8 mg2.1%
Total Carbohydrates 27 g8.9%
Dietary Fiber 1.6 g6.5%
Sugars 6.1 g
Protein 19 g38.8%
Vitamin A 5.5% Vitamin C 106.3%
Calcium 1.8% Iron 2.6%
*Based on a 2000 Calorie diet
Directions
Drain mixed fruit, reserving syrup.
Add enough water to syrup to make 1 cup.
Heat to boiling; add gelatin; stir till dissolved.
Cool to room temperature; gently stir in carbonated beverage.
Chill till partially set.
Fold in fruit.
Pour into 9x5x3 inch loaf pan.
Chill till firm.
Cut in squares; serve on salad greens.
Top each serving with a dollop of mayonnaise or salad dressing.