»

Recipes

»

Cheese

»

Fondue

»

Mixed Cheese Fondue
Mixed Cheese Fondue Recipe
Thinking what can add flavor to your next get-together, try out this fabulous Mixed Cheese Fundue. Simple and easy, preparing this Mixed Cheese Fondue is a lot entertaining and yes, it tastes awesome to impress your guests.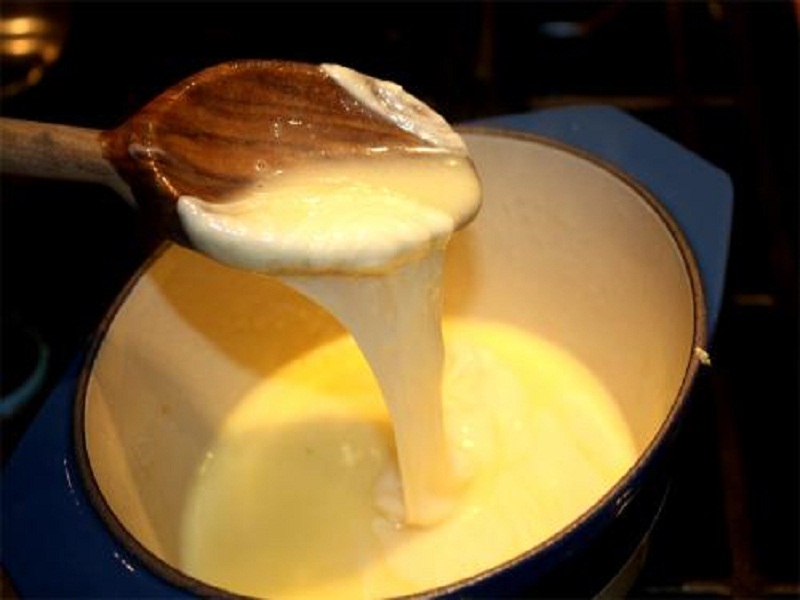 Ingredients
Cheddar cheese

1⁄4 Pound

, shredded

Pimiento cheese

1⁄4 Pound

, shredded

Bleu cheese

1⁄4 Pound

Eggs

2

, beaten

Butter/Margarine

3 Tablespoon

Undiluted evaporated milk

1 Cup (16 tbs)

Tabasco sauce

1 Dash
Nutrition Facts
Serving size: Complete recipe
Calories 1870 Calories from Fat 1384
% Daily Value*
Total Fat 156 g239.6%
Saturated Fat 87.2 g436.2%
Trans Fat 0 g
Cholesterol 893.8 mg
Sodium 3635.6 mg151.5%
Total Carbohydrates 38 g12.6%
Dietary Fiber 0 g0.01%
Sugars 23 g
Protein 82 g163.5%
Vitamin A 96.3% Vitamin C 4.9%
Calcium 216.6% Iron 16.2%
*Based on a 2000 Calorie diet
Directions
MAKING
1) Place a blazer pan over boiling water and melt butter in it.
2) Add the cheeses and form a smooth paste using a wooden spoon.
3) Stir in milk and Tabasco sauce. Mix and blend well.

SERVING
4) Beat in the eggs immediately before serving, one at a time.
5) Serve over toasted English muffins.