»

Recipes

»

Japanese
Miso Soup Recipe
Dashi is a basic stock used in Japanese cooking which is made by boiling dried kelp (seaweed) and dried bonito (fish).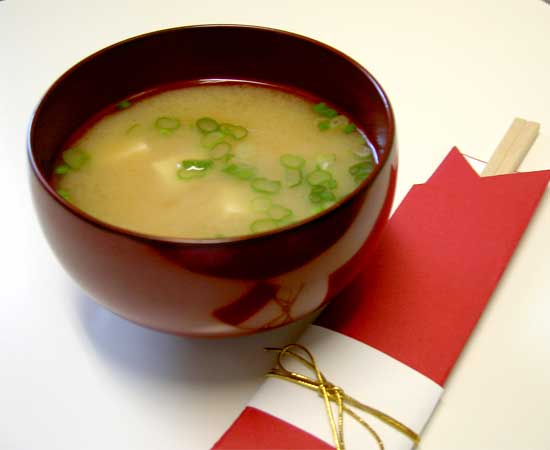 Ingredients
Dashi granules

2 Teaspoon

Water

4 Cup (64 tbs)

Miso paste

3 Tablespoon

Silken tofu

8 Ounce

, diced

Green onions

2

, sliced diagonally into 1/2 inch pieces
Nutrition Facts
Serving size
Calories 60 Calories from Fat 21
% Daily Value*
Total Fat 2 g3.6%
Saturated Fat 0.33 g1.7%
Trans Fat 0 g
Cholesterol 0 mg
Sodium 541.9 mg22.6%
Total Carbohydrates 6 g1.8%
Dietary Fiber 0.87 g3.5%
Sugars 1.6 g
Protein 4 g8.8%
Vitamin A 5% Vitamin C 4.6%
Calcium 2.8% Iron 4.8%
*Based on a 2000 Calorie diet
Directions
In a medium saucepan over medium-high heat, combine dashi granules and water; bring to a boil. Reduce heat to medium, and whisk in the miso paste. Stir in tofu. Separate the layers of the green onions, and add them to the soup. Simmer gently for 2 to 3 minutes before serving.