»

Recipes

»

Indian

»

Andhra

»

Mirchi Ka Salan
Mirchi Ka Salan Recipe
Would you like to try mirchi ka salan at home? This is a traditional side dish recipe from Hyderbadi Cuisine. It is served as a side dish of Hyderabadi biryani. Try this mirchi ka salan recipe and enjoy .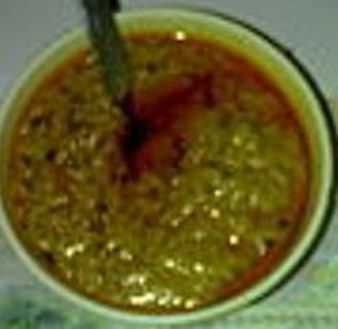 Summary
Preparation Time
10 Min
Cooking Time
30 Min
Ready In
40 Min
Difficulty Level
Easy
Health Index
Average
Servings
5
Ingredients
Green chilies

150 Gram

Coconut

75 Gram

, grated

Sesame seeds

30 Gram

Peanuts

30 Gram

Tamarind

30 Gram

(Soaked In Water)

Oil

100 Gram

Coriander leaves

1 Bunch (100 gm)

Mustard seeds

20 Gram

Fenugreek seeds

1 Teaspoon

Salt

To Taste
Nutrition Facts
Serving size
Calories 351 Calories from Fat 280
% Daily Value*
Total Fat 32 g49.8%
Saturated Fat 8 g39.9%
Trans Fat 0 g
Cholesterol 0 mg
Sodium 96.1 mg4%
Total Carbohydrates 14 g4.7%
Dietary Fiber 4.7 g18.9%
Sugars 6.6 g
Protein 6 g11.1%
Vitamin A 34.2% Vitamin C 131.7%
Calcium 11.2% Iron 17.4%
*Based on a 2000 Calorie diet
Directions
Point 1. Fry the grated coconut,sesame seeds and peanuts without any oil and blend them to a fine powder.

Point 2. Heat oil in a pan ,fry mustard and fenugreek seeds and curry leaves for few minutes.Then add green chillies and fry for 3 minutes.

Point 3. Add the ground mixture to the green chillies and fry until the oil separates from the chillies.

Point 4. To this ,add salt ,turmeric,tamarind water and cook on low heat until the gravy thickens.

Point 5. Remove from heat and garnish with coriender leaves.

Hyderabad is famous for its Biryani served with Mirch Ka Salan. It is soooooooo good. Mirchi substituted with Capsicum/Green Bell Peppers also tastes good.
Posted on:
17 April 2008 - 11:47am

Pratik says :
I love salan...Its the best in ITC hotels, But I have had mirch baingan ka salan. Do u have the receipe for that?
Posted on:
30 July 2009 - 3:28am

nehapaul says :
Delicious side dish.
Posted on:
16 April 2008 - 5:07am