»

Recipes

»

Indian

»

Mirchi Bajji
Mirchi Bajji Recipe
Mirchi Bajji is a common Indian tea-time snack. Though it involves deep-frying, this snack can be enjoyed once in a while for its hot and tangy taste.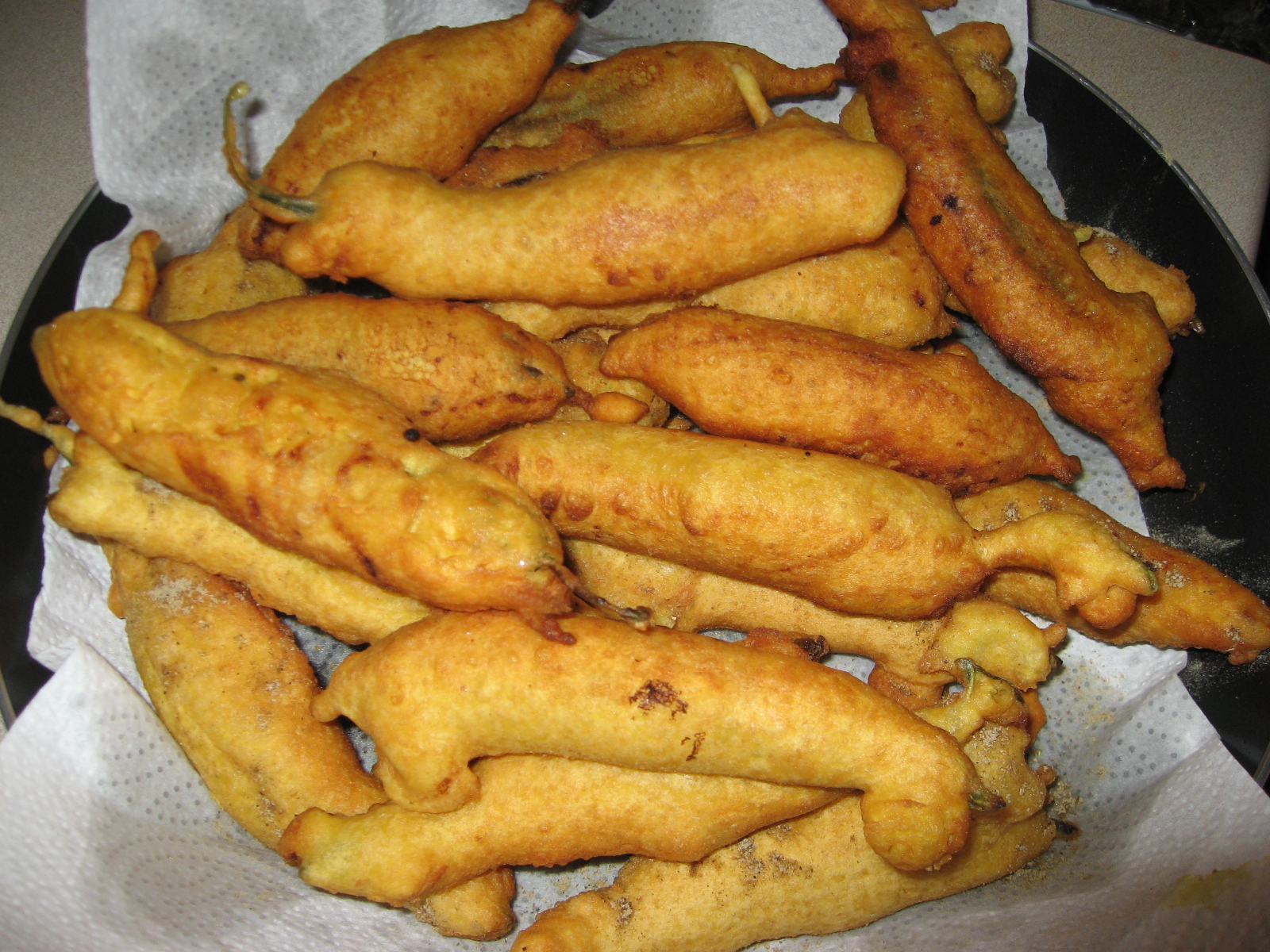 Summary
Preparation Time
10 Min
Cooking Time
15 Min
Ready In
25 Min
Difficulty Level
Easy
Health Index
Just Enjoy
Servings
10
Ingredients
| | | |
| --- | --- | --- |
| | Chickpea flour | 2 Cup (32 tbs) |
| | Warm water | 1 Cup (16 tbs) |
| | Soda bicarbonate | 1 Pinch |
| | Ajwain | 1⁄4 Teaspoon |
| | Coriander powder | 1⁄2 Teaspoon |
| | Salt | To Taste |
| | Green chilies | 20 |
| | Groundnuts | 1 Cup (16 tbs) |
| | Tamarind paste | 1 Teaspoon |
| | Dried red chili | 5 |
| | Fenugreek seeds | 6 |
| | Chili powder | To Taste |
| | Oil | 2 Cup (32 tbs) |
| | Chopped onion | 1⁄2 Cup (8 tbs) |
| | Chaat masala | 3 Pinch |
| | Lime juice | 1 Tablespoon |
Directions
Slit the Long green chillies in the center making sure that you do not slit them into halves, remove all seeds and boil in hot water for 2 minutes. Remove, Drain and Keep aside.

In a bowl, combine Besan and warm water. Add the soda bi carb, ajwain seeds, dhaniya powder and salt and mix well to make a semi-thick batter (make sure the batter is not watery. It should be thick enough to coat the chillies well). Keep aside.

Heat a skillet and roast the groundnuts until they change color.

In a blender/grinder, add the roasted groundnuts, methi seeds, tamarind paste, red chillies, salt, chilly powder and 1 cup of water and grind into a semi-smooth paste (masala).

Now take 1 slit green chilli, fill it with a small quantity of the ground masala. Hold the chilli by its stem and dip it in the besan batter and make sure the batter coats the chilli properly on all the sides, remove from batter and immediately drop in the hot oil and deep fry. Repeat procedure with the other chillies.

Fry until the chilli turns into a golden brown color. Remove and drain excess oil on a kitchen towel/absorbent sheet.

You may serve the bajji as it is or as an optional step you may again slit the fried bajji in the center, fill it with chopped onions, sprinkle some chaat masala and lime juice and serve hot.

Thank you Shammi. I am glad your family enjoyed the snack!
Posted on:
8 January 2011 - 3:13pm

Andhra Mirchi Bajji is supposed to be very very spicy. The first step where you remove the seeds and boil the chillies will pretty much get rid of most of the hotness of the mirchi. Also in the masala, the added tamarind paste will subdue the spice level in spite of adding red chillies. You may skip adding chilly powder if you wish to do so.
Posted on:
8 December 2010 - 1:00pm

oh.. This just makes me good. nothing better than good snacks easily prepared at home. Im a veggie so I was looking for a nice veg snack.. this one is perfect. thanks snigdha. read ur profile and it so sweet and inspiring! take care :) P.S. - Could post some more veggie recipes..?
Posted on:
21 April 2009 - 3:44am

very yummy!!
Posted on:
25 March 2009 - 8:54am
its just great
Posted on:
18 February 2009 - 7:48pm

Yummy mirchi bhajjis snigdha...the ones in Andhra are supposed to be the fire brand. They make it really well here...great street food.
Posted on:
16 February 2009 - 8:00am

Sharonah says :
sounds good can alternate the peppers with other vegetables
Posted on:
16 February 2009 - 6:03am