»

Recipes

»

Indian

»

Andhra

»

Mirch Ka Salan
Mirch Ka Salan Recipe
Mirch Ka Salan, a typical Hyderabadi dish is served as a Side-dish with Biryani/Pulao. Mirch Ka Salan is a thick gravy with a tangy taste and made with long Indian green chillies. As the chillies are de-seeded and initially boiled in hot water and later simmered in the gravy, they transfer a wonderful flavor to the gravy and yet do not make it overpoweringly hot.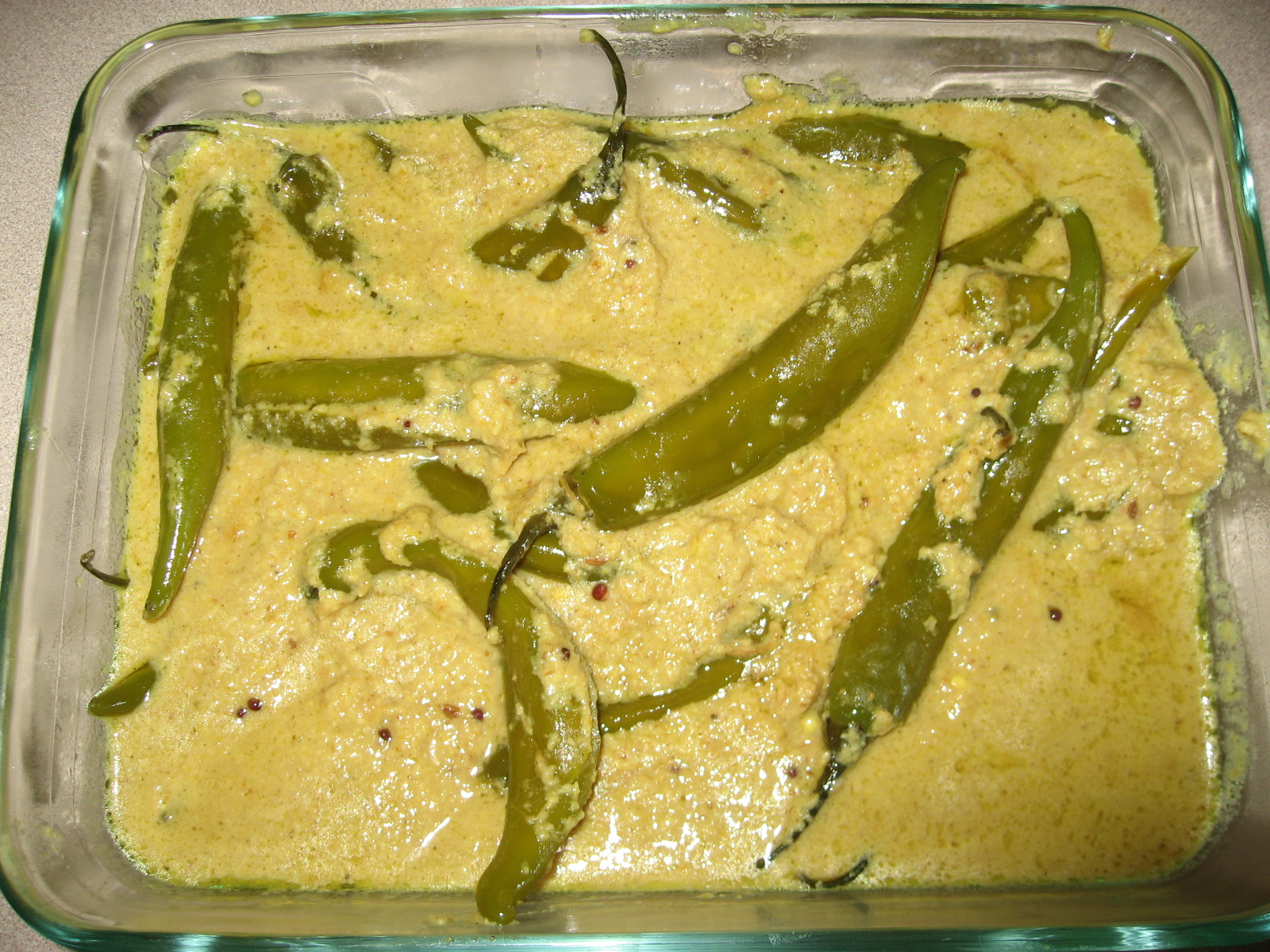 Ingredients
Long Green chillies - 10

Groundnuts - half cup

Til/Sesame seeds - 1 tsp

Tamarind/Tamarind paste - a small quantity/one-fourth tsp

Onion

1

, julienned

Garam Masala powder - half tsp

Coriander powder/Dhaniya

1.5 Teaspoon

Cumin seeds

1 Teaspoon

Mustard seeds - half tsp

Turmeric powder

2 Pinch

Coriander/ cilantro sprig

12

Salt and Chilly powder - to taste.
Directions
Heat 2 tbs oil in a skillet. Add julienned onions and fry well. Once the onions start changing color, add chopped cilantro and mix well. Remove from stove. Keep aside.

Roast groundnuts and sesame seeds until light brown and keep aside.

Grind fried onion-cilantro mix, roasted groundnuts-sesame seeds,half tsp of cumin seeds and tamarind paste into a smooth paste(masala). Add a cup of water and grind until smooth. Keep aside.

Slit the green chillies in the middle, remove all seeds and boil in hot water for 4-5 minutes. Drain and keep aside.

Heat 2 tbs oil in a skillet. Add mustard seeds and allow them to splutter. Add the other half tsp of cumin seeds. Add the ground masala.

Add the boiled chillies. Add garam masala, dhaniya powder, salt and chilly powder. Mix well. Add a cup of water.Cover and cook on low flame for about 7-10 minutes. Remove lid, stir and continue cooking until gravy thickens slightly or reaches desired consistency.

Serve Hot with Biryani or Pulao.