»

Recipes

»

Muffin

»

Mini Banana Muffin
Mini Banana Muffin Recipe
My wife likes this Mini Banana Muffin recipe. This Mini Banana Muffin recipe is very simple and easy.Whenever my son gets annoyed, my wife uses this Mini Banana Muffin to delight him. The interesting fact about this dish is that the very mention of it delights my son. So this dish brings joy to my home.Try this Mini Banana Muffin recipe and brings joy to your home.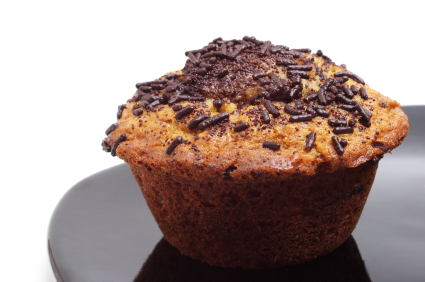 Ingredients
Eggs

2

Ripe bananas

4

, mashed

Oil

1 Cup (16 tbs)

Milk

1⁄2 Cup (8 tbs)

Vanilla

2 Teaspoon

Flour

4 Cup (64 tbs)

Sugar

1 Cup (16 tbs)

Baking powder

2 Tablespoon

Salt

2 Teaspoon

Chocolate chips

1 Cup (16 tbs)

(mini kind of)
Nutrition Facts
Serving size
Calories 1219 Calories from Fat 508
% Daily Value*
Total Fat 58 g88.8%
Saturated Fat 10.1 g50.4%
Trans Fat 0 g
Cholesterol 86.9 mg
Sodium 1379.4 mg57.5%
Total Carbohydrates 164 g54.6%
Dietary Fiber 5.2 g20.8%
Sugars 66 g
Protein 16 g31.5%
Vitamin A 3.6% Vitamin C 13.9%
Calcium 49.9% Iron 33.1%
*Based on a 2000 Calorie diet
Directions
Step1-Beat egg in bowl. Add bananas, oil, milk and vanilla. Stir together flour, sugar, baking powder and salt.

Step2-Stir in chips. Stir liquid into dry ingredients.

Step3-Pour batter into cupcake liners 3/4 full. Sprinkle with additional chips if desired.

Step4-Bake at 350 degrees Fahrenheit for 18 to 22 minutes or until golden brown. Remove from pan. Then freeze well.

Pam Codman says :
I have just made these muffuns, in fact I only used half the ingredients to try it out. I seemed to have far too much flour and certainly not a batter. The results were disappointing and the muffins were too heavy in texture.
Posted on:
15 July 2010 - 4:06am

I like banana muffin very much.The traditional English muffin is very different from the American variety. The English muffin is yeast leavened and predates the baking powder leavened muffins.Muffins made from cornmeal are popular in the United States. Similar to cornbread, they can be eaten with butter or as a side dish with stews or chili. This recipe of Banana muffin is looking easy and simple .Thanks for posting this nice recipe of banana muffin.
Posted on:
5 February 2008 - 2:25pm