»

Recipes

»

Italian

»

Seasoned Minestrone
Seasoned Minestrone Recipe
Minestrone has a great taste. Minestrone gets its taste from beef mixed with bacon and cheese, cooked with pasta. Minestrone is inspired by many food chains worldwide.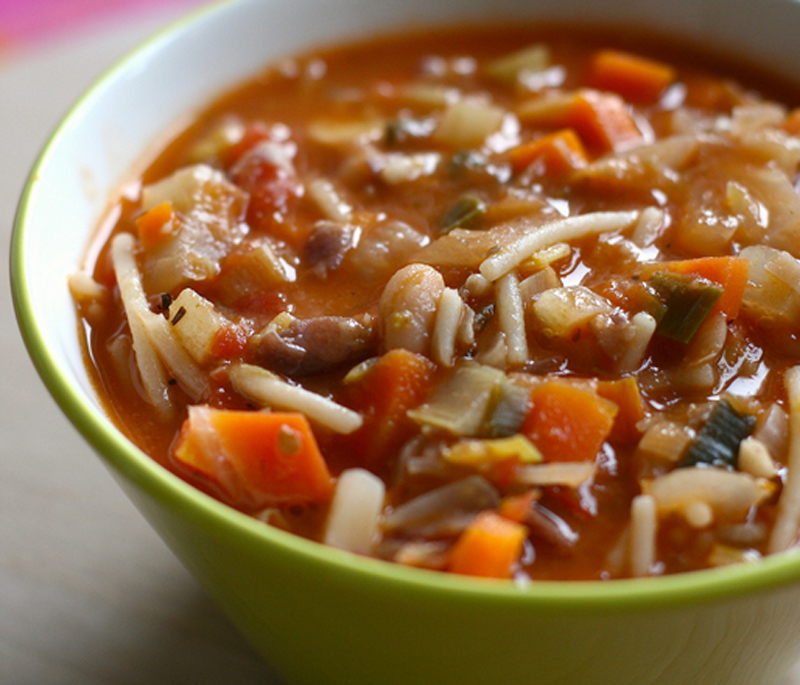 Ingredients
1 Ib. beef soup meat

5 peppercorns Soup greens

Salt

To Taste

Lean bacon

1/4 Pound

, smoked

Oil

2 Tablespoon

Onion

1

, chopped

Garlic

2 Clove (5gm)

, chopped

Tomatoes

2 Large

, peeled

2 carrots, sliced or diced

Leeks

2

, chopped

2 kohlrabi, pared and diced

2 potatoes, pared and diced

1/2 Ib. green beans, cut in pieces

Green peas

1/2 Pound

White beans

1/2 Can (10oz)

, drained

Spaghetti

1/4 Pound

Pepper

1

Basil, majoram, and thyme

Shredded Parmesan cheese
Directions
Combine beef, peppercorns and soup greens in a soup kettle containing lightly salted water.
Bring to boiling and cook, covered, 2 to 3 hours.
Strain broth and dice the meat.
Return broth and meat to kettle.
Lightly brown the bacon in oil in a skillet over medium heat.
Add chopped onion and garlic.
Cook until golden.
Add tomatoes and cook in skillet about 3 minutes.
Add to soup mixture in kettle and bring to boiling.
Add diced or sliced carrots, leeks, kohlrabi, potatoes, green beans and peas.
Cook until vegetables are half done.
Add white beans and spaghetti.
Cook until spaghetti is tender.
Season soup with salt, pepper and herbs.
Image Courtesy :
http://www.flickr.com/photos/diekatrin/4309005328/