»

Recipes

»

Italian
Minestrone Recipe
Are you planning for holiday cooking? This minestella will perfectly suit your taste. It is very easy to prepare. This dish is so delicious that it will add to the enjoyment of your holiday cooking. You will be thankful for this minestella recipe.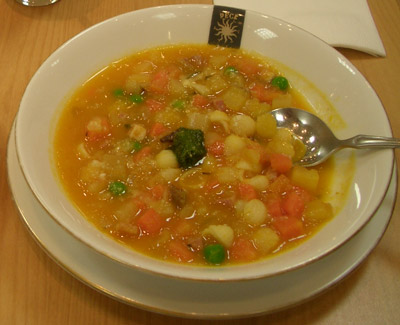 Ingredients
Canned chicken broth

14 1⁄2 Ounce

Canned minestrone soup

14 1⁄2 Ounce

Italian seasoning

1 Tablespoon

Eggs

4

, well beaten

Grated parmesan cheese

1⁄4 Cup (4 tbs)
Nutrition Facts
Serving size
Calories 181 Calories from Fat 77
% Daily Value*
Total Fat 9 g13.3%
Saturated Fat 3.2 g16.1%
Trans Fat 0 g
Cholesterol 218.3 mg
Sodium 906.6 mg37.8%
Total Carbohydrates 13 g4.4%
Dietary Fiber 2.5 g9.9%
Sugars 3.8 g
Protein 13 g26.8%
Vitamin A 19.2% Vitamin C 9.8%
Calcium 13.8% Iron 10.8%
*Based on a 2000 Calorie diet
Directions
In medium saucepan over high heat, bring chicken broth, minestrone, and seasoning to boiling, While stirring soup, slowly pour in eggs. Remove from heat immediately.

Pour or ladle about 1 cup soup into each of 4 (10-oz.) bowls. Sprinkle each with 1 tablespoon of the cheese.