»

Recipes

»

French

»

Mille Feuille
Mille Feuille Recipe
If you haven't decided what to cook this holiday, then try this mille feuille recipe. The pleasure you would experience in cooking this recipe would make your holiday more delightful. This dessert would be so tasty that the fragrance of it will make people's mouth to water.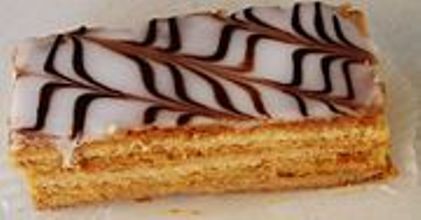 Ingredients
Vanilla pudding

10 Ounce

(Cook And Serve)

Graham crackers

100 Gram

Heavy whipping cream

1 Pint

Chocolate chips

8 Ounce
Nutrition Facts
Serving size
Calories 1031 Calories from Fat 520
% Daily Value*
Total Fat 60 g91.7%
Saturated Fat 32.6 g163.1%
Trans Fat 0 g
Cholesterol 164.4 mg
Sodium 1465.3 mg61.1%
Total Carbohydrates 126 g42.1%
Dietary Fiber 0.8 g3.2%
Sugars 80.4 g
Protein 6 g11.8%
Vitamin A 35.3% Vitamin C 1.2%
Calcium 15.8% Iron 4.6%
*Based on a 2000 Calorie diet
Directions
Stage1-Layer 9x13 Pyrex dish with graham crackers.

Stage2-Cook pudding according to box directions.

Stage3-Slowly pour pudding over crackers.

Stage4-Cover pudding with graham cracker layer.

Stage5-Beat whipping cream, then cover over graham cracker.

Stage6-Melt chocolate chips, then sprinkle melted chocolate over whipped cream.

Stage7-Chill 1-2 hours before serving.

amstar says :
The commented recipe is closer to what I remember to be the original recipe. But I must say the 'cheat' version with graham crackers (how do you suppose plain soda water crackers would work) sounds like a nice 'hasty-tasty' alternative
Posted on:
28 June 2009 - 7:15am

I adore Mille Feuille ie Napaleans they are one of the few desserts that make me swoon. no puff pastry? Graham Crackers? Mon dieu................ Mille Feuille aux Framboises/Napolean with Fresh Raspberries Recipe Ingredients: 3 sheets of puff pastry dough (you'll need two boxes of Pepperidge Farm Puff pastry, or need to cut a single sheet into three equal sections) 1 quart fresh raspberries For the cream: 4 large egg yolks 4 tablespoons of sugar 2 tablespoons of flour 1 teaspoon of vanilla 2 cups whole milk 1 pint whipping cream to be whipped separately and folded in to the pastry cream Powdered sugar for decoration Instructions: Defrost the pastry dough in the refrigerator overnight. Place on baking sheets with baking paper below, poke all over with a fork to prevent puffing and bake at 400/200C for 30 minutes or till nicely browned and cooked through. Remove and let cool. Meantime, start the pastry cream: Put the milk on the stove at low heat to scald. In a mixer, place your egg yolks, sugar, flour and vanilla and beat well - till lightened in color. Transfer the mixture to a double boiler, pour into it gently, whisking all the while, the hot milk. Put on a low flame under the double boiler and continue whisking till the mixture has thickened well - keep mixing for a minute or two after it thickens (the addition of flour will prevent it from curdling too quickly). Take the cream off the double boiler, place in a bowl with ice and water and continue whisking till cool. Place in the refrigerator till needed. Whip the whipping cream. Fold into the chilled pastry cream. An hour or 2 before serving, take out your serving platter and place one sheet of the puff pastry on it. Spread half the cream on the pastry, sprinkle with berries and lay another layer of the pastry on top. Repeat. Top off with the last layer of pastry, sprinkle some berries on top and some powdered sugar. Chill briefly in the freezer to make slicing easier. Slice with a warmed knife into rectangles. Serve with extra raspberries on the plate. Shanti/Mary-Anne
Posted on:
2 April 2008 - 1:16pm