»

Recipes

»

Caramel

»

Microwave Caramel Popcorn
Microwave Caramel Popcorn Recipe
Are you looking for Microwave Carmel Popcorn Recipe? I am sharing a simple and quick Microwave Carmel Popcorn Recipe with you. This recipe produces golden popcorn with a crunchy, sweet caramel coating. This candy is delicious on its own. You can try this Microwave Carmel Popcorn Recipe on many occasions like Boxing Day, Christmas, Fall, Halloween, New Year's, Party, Picnic, Winter, etc. You should try this Microwave Carmel Popcorn Recipe. You will love it.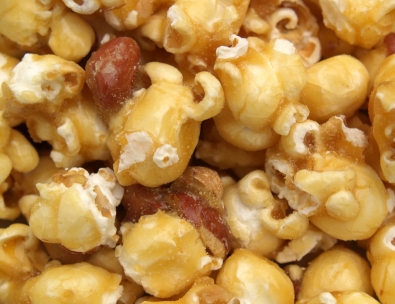 Summary
Preparation Time
5 Min
Cooking Time
5 Min
Ready In
10 Min
Difficulty Level
Very Easy
Health Index
Healthy
Servings
4
Ingredients
| | | |
| --- | --- | --- |
| | Popped popcorn | 8 Cup (128 tbs) |
| | Brown sugar | 1 Cup (16 tbs) |
| | Butter stick | 2 |
| | White karo | 1⁄2 Cup (8 tbs) |
| | Salt | 1⁄2 Teaspoon |
| | Soda | 1 Teaspoon |
Nutrition Facts
Serving size
Calories 724 Calories from Fat 404
% Daily Value*
Total Fat 46 g70.3%
Saturated Fat 15.2 g76%
Trans Fat 0 g
Cholesterol 49.7 mg
Sodium 635.1 mg26.5%
Total Carbohydrates 83 g27.5%
Dietary Fiber 0 g
Sugars 80 g
Protein 0.86 g1.7%
Vitamin A 40.4% Vitamin C 0.09%
Calcium 1.6% Iron 0.29%
*Based on a 2000 Calorie diet
Directions
Mix brown sugar, butter, white Karo and salt together.
After mixing one teaspoon of soda, stir well.
On the top of popcorn pour the caramel mixture.
Shake well.
Cook in microwave 1 minute and shake.
Cook another one minute and shake.
Roll down the bag and shake.

Microwave Caramel Popcorn is ready to serve.
Let it cool down.
Now again shake.
Hi, I think this recipe's proportion is wrong. It uses over 2 cups of (moist, brown) sugar (and 2 stick of butter) for 4 cups of popped corn. Other recipes goes with 8 cups (2 quarts) vs 1 cup sugar + 1/2 cup of water. I tried this, of course, but I got a very large quantity of sugary paste that drowns my 4 cups of popped corn and refuse to harden. I think I'm reducing the liquid content next time. and quadruple the popped corn. Oh, yeah, the liquid mess is still delicious, though :)
Posted on:
1 June 2013 - 2:25pm

Thanks donald1x. The ingredient quantities have been corrected now as per your suggestion.
Posted on:
4 June 2013 - 7:18am

Hey Maldonado, Absolutely delicious picture of carmel popcorn recipe. This dish is also looking very healthy and nutritious.It would be a great option for holiday cooking.Thanks for posting this delicious microwave carmel popcorn recipe.
Posted on:
6 February 2008 - 1:54pm