»

Recipes

»

Fish

»

Microwave Fried Fish
Microwave Fried Fish Recipe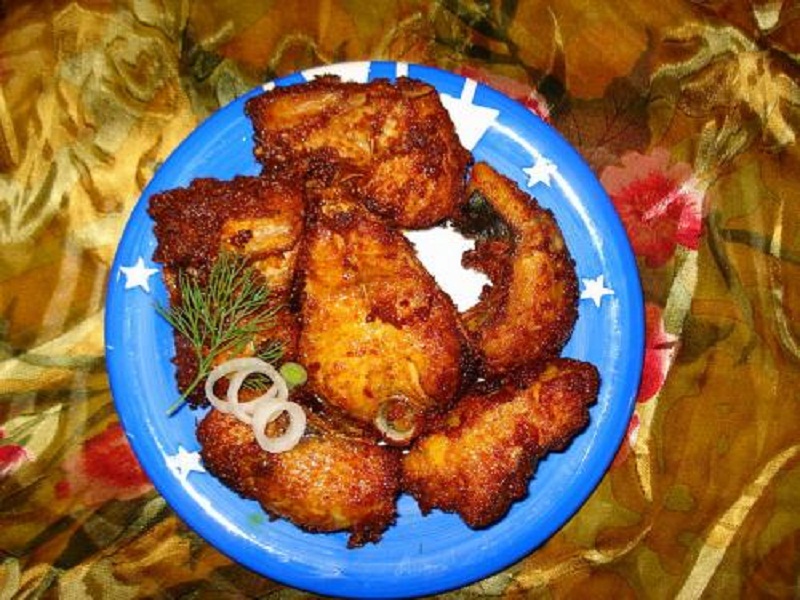 Summary
Preparation Time
5 Min
Cooking Time
3 Min
Ready In
8 Min
Difficulty Level
Easy
Health Index
Healthy
Servings
4
Ingredients
Plain dried breadcrumbs - 1 tablespoon plus 1 1/2 teaspoons

Parmesan cheese

1/2 Teaspoon

, grated

Basil leaves

1/8 Teaspoon

Pepper - A dash

Margarine

2 Teaspoon

Fillets

2 Ounce
Directions
MAKING
1) On a paper plate or a sheet of wax paper, combine together the cheese, bread crumbs, basil and pepper. Stir well to combine thoroughly. Set the mixture aside.
2) In a microwavable cup, microwave the margarine for about 30 seconds on HIGH (100%), till it has melted.
3) With the melted margarine, brush both sides of each fillet. Ensure that the entire margarine has been used up.
4) In the bread crumb mixture, dredge each fillet, lightly coating on both sides.
5) On sheets of paper towel, place each fillet. Over each fillet, fold the sides of each towel to enclose.
6) On a microwavable plate, arrange the fillets, folded-sides down.
7) Microwave the fillet on MEDIUM-HIGH (70%) for 2 minutes. Let the preparation stand in the microwave for 2 minutes, till the fish has thoroughly cooked and easily flakes when tested with a fork.
8) Remove the paper towels and discard them

SERVING
9) Serve the Microwave Fried Fish while it is still hot. Transfer to a decorative serving platter and serve as a main dish. A light, green salad can be served on the side.