»

Recipes

»

Mexican
Mexican Sauce Recipe
Use this Mexican sauce as dips for fries or roasts, or as a side dish. This Mexican sauce is a very easy dish to prepare and tastes awesome when flavored with those readily available seasonings from your kitchen cabinet!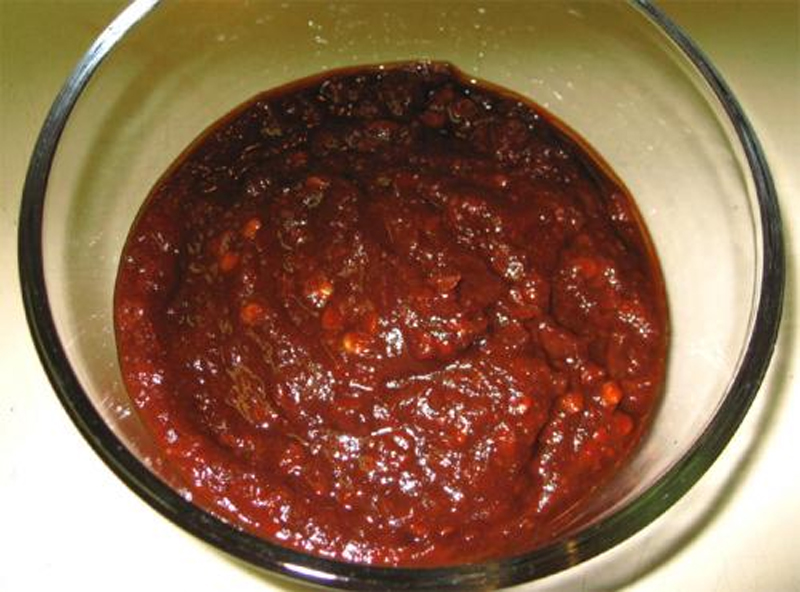 Summary
Preparation Time
5 Min
Cooking Time
25 Min
Ready In
30 Min
Difficulty Level
Easy
Ingredients
Tomatoes

8 Ounce

, chopped (tinned or fresh cooked, peeled)

Onion

1

, chopped

Chili sauce/Chilli powder

1 1⁄2 Tablespoon

Butter

2 Tablespoon

Flour

2 Tablespoon

Vegetable stock

1 Cup (16 tbs)

Salt

To Taste

Brown sugar

1 Teaspoon
Nutrition Facts
Serving size: Complete recipe
Calories 454 Calories from Fat 221
% Daily Value*
Total Fat 25 g38.8%
Saturated Fat 15.6 g77.9%
Trans Fat 0 g
Cholesterol 64.5 mg
Sodium 960.9 mg40%
Total Carbohydrates 52 g17.4%
Dietary Fiber 7.5 g29.9%
Sugars 17.3 g
Protein 7 g14.1%
Vitamin A 54.4% Vitamin C 66.9%
Calcium 6.6% Iron 13.5%
*Based on a 2000 Calorie diet
Directions
MAKING
1. In a pan, melt butter.
2. Add onions and sauté it till it becomes tender.
3. Add flour and chilli powder. Simmer for a few minutes while stirring constantly.
4. Add stock and tomatoes with brown sugar. Keep stirring until sauce is simmering and of a smooth consistency.
5. Add salt and simmer for another 10 minutes.

SERVING
6. Serve Mexican Sauce with a variety of dishes, plain vegetables and fricadelles.