»

Recipes

»

Mexican

»

Mexican Chicken Salad
Mexican Chicken Salad Recipe
The Mexican chicken salad recipe is an exotic combination of very colorful ingredients. It is not only a delicious chicken salad in Mexican style but also very appealing to the eyes. Make the right impact with this yummy delicacy.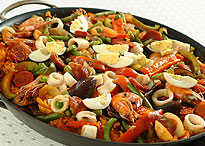 Ingredients
Tomatoes

4 Medium

Cooked and cubed chicken

1 1/2 Cup (16 tbs)

Celery

1/2 Cup (16 tbs)

, sliced

1/2 cup whole kernel corn with red and green peppers

Onion

1/4 Cup (16 tbs)

, chopped

1/4 pound slice Alpine Lace Deli Reduced Fat Cheddar Cheese, cubed 1/4 inch

Black beans

1 Can (10oz)

, drained, rinsed

1/3 cup LAND O LAKES Light Sour Cream

1/3 cup thick and chunky salsa

Celery leaves, if desired.
Directions
Cut tops from tomatoes. Scoop out seeds and pulp; discard. Place tomatoes, cut-side down, on paper towels to drain.

Meanwhile, combine all ingredients except sour cream, salsa and celery leaves in large bowl. Gently stir in sour cream and salsa. Spoon salad into tomatoes. Garnish with celery leaves, if desired.