»

Recipes

»

Mexican

»

Mexican Beef Stuffed Peppers
Mexican Beef Stuffed Peppers Recipe
Breakfast cereal is the surprise ingredient that keeps these hearty, colorful stuffed peppers low in fat and calories and high in flavor!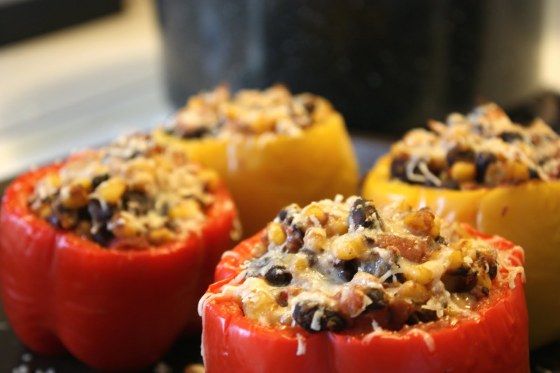 Ingredients
Fiber one cereal

1 1⁄2 Cup (24 tbs)

Progresso tomato puree

28 Ounce

Bell peppers

4 Medium

Extra lean ground beef

1⁄2 Pound

Onion

1 Medium

, finely chopped

Progresso red kidney beans

19 Ounce

(Drained, Rinsed)

Chopped green chili

4 1⁄2 Ounce

, undrained (Old El Paso)

Chili powder

2 Teaspoon

Ground cumin

1⁄2 Teaspoon

Shredded reduced fat cheddar cheese

1⁄4 Cup (4 tbs)
Nutrition Facts
Serving size
Calories 603 Calories from Fat 66
% Daily Value*
Total Fat 7 g11.1%
Saturated Fat 2.3 g11.4%
Trans Fat 0.1 g
Cholesterol 29 mg
Sodium 369.6 mg15.4%
Total Carbohydrates 126 g42%
Dietary Fiber 46.4 g185.7%
Sugars 13.5 g
Protein 39 g78%
Vitamin A 56.1% Vitamin C 274%
Calcium 39.3% Iron 87.6%
*Based on a 2000 Calorie diet
Directions
1. Heat oven to 350ºF. Crush cereal.* Mix cereal and tomato puree; let stand 5 minutes.
2. Cut bell peppers lengthwise in half. Remove seeds and membranes. Place peppers, cut sides up, in rectangular baking dish, 13x9x2 inches.
3. Cook beef and onion in 10-inch skillet over medium heat, stirring occasionally, until beef is brown; drain. Stir in cereal mixture and remaining ingredients except cheese. Divide beef mixture evenly among peppers.
4. Cover and bake 40 to 45 minutes or until peppers are tender. Sprinkle each pepper half with 1/2 tablespoon cheese; let stand 5 minutes.

*Place cereal in plastic bag or between sheets of waxed paper or plastic wrap; crush with rolling pin. Or crush in blender or food processor.