»

Recipes

»

Asian

»

Mexicali Roll With Jalapeno Soy Sauce
Mexicali Roll with Jalapeno Soy Sauce Recipe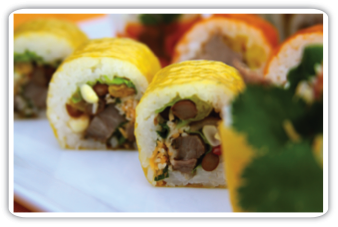 Recipe Story
This recipe is Lacto Ovo Vegetarian friendly when the marinated skirt steak is substituted.
Ingredients
1 <a href= "http://www.newgemfoods.com/products">Origami Corn Wrap</a>

Sushi rice

1/2 Cup (16 tbs)

, prepared

3 ounces marinated skirt steak, into ¼" inch strips

Option: Replace with Vegan alternative

2 ounces Monterey Jack-Cheddar blend, shredded

Tomatoes

2 Ounce

, chopped

1 scallion, trimmed and split lengthwise

Black beans

2 Ounce

, drained

Pinch ground cumin

2 ounces red leaf lettuce, shredded

Lime juice

2 Teaspoon

Sour cream

4 Ounce

Salt

To Taste

2 ounces tortillas chips, crushed

Jalaleno Soy Sauce Ingredients

Soy sauce

1 Cup (16 tbs)

1 jalapeno pepper, slice in thin rounds.

Infuse all ingredients overnight- or longer for more heat.

Strain before using.
Directions
Whisk sour cream, lime juice, salt. Store lime crema in
squeeze bottle.
Mix cumin with black beans.
Place Origami Corn Wrap shiny side down.
Lay in rice, cheese, beans, lettuce, tomatoes, scallions, steak.
Cut into 8 pieces. Drizzle lime crema over pieces.
Top each piece with a pinch of fried onions.
Serve with Jalapeno Soy Sauce.
To learn more about New Gem Foods or where you can purchase their products visit:
www.newgemfoods.com
.