»

Recipes

»

Indian

»

Medu Vada
Medu Vada Recipe
The South Indian Medu vada is a savoury fried donut made of a fermented batter.It is a favourite on many occasions and is an excellent breakfast and snack item in most South Indian homes and spreads. It is best when served with coconut chutney and sambar (lentil curry).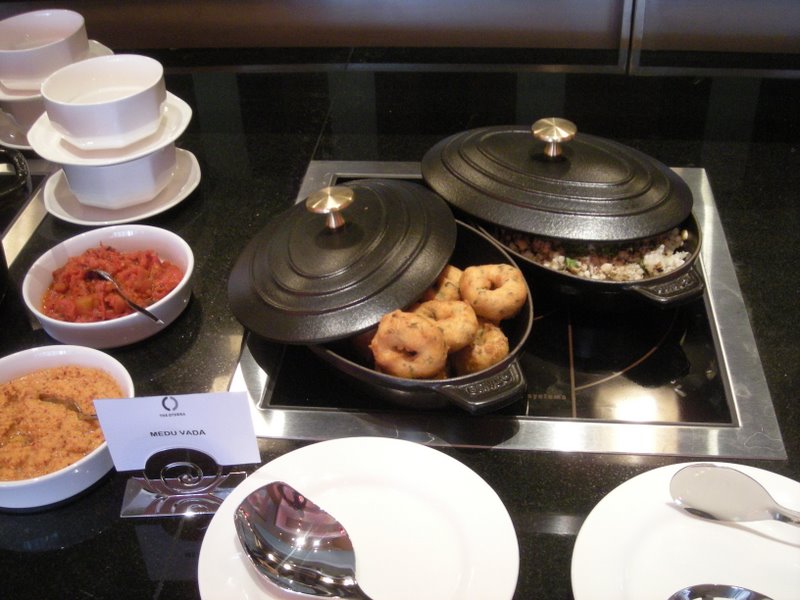 Summary
Preparation Time
20 Min
Cooking Time
20 Min
Ready In
40 Min
Difficulty Level
Medium
Health Index
Average
Servings
4
Ingredients
Black gram

1 1/2 Cup (16 tbs)

Salt

To Taste

Asafoetida

1/2 Teaspoon

Curry leaves

10

Cumin powder

1 Teaspoon

Black peppercorns

1 Teaspoon

, crushed

Green chilli

1 Teaspoon

, chopped

1 table spoon of thin slices of coconut

Oil to fry
Directions
Wash and soak the urad dal for six hours. Drain the excess water and grind into a fine paste (do not use the water to make the paste). Transfer to a bowl and beat the mixture with hand beater to incorporate air and make the batter light. Add salt, asafoetida, curry leaves, cumin powder and crushed peppercorns/green chillies to the batter and mix well.

Heat oil in a wok. Wet your palms and take batter into the palms. Shape into balls and make a hole with the thumb in the centre like a doughnut.

Deep-fry this in medium hot oil until golden brown and crisp.

Do not fry vada on low heat, it will make them very oily.
If the batter becomes very thin, add a little rice flour to it.

Serve hot with sambhar and coconut chutney.