»

Recipes

»

Tart

»

Meat Tarts
Meat Tarts Recipe
Meat Tarts is an amazingly easy to prepare side dish which cannot just escape your guest's attention in any party. Try this delicious Meat Tarts; I am sure you will get a huge fan following for this!
Meat Tarts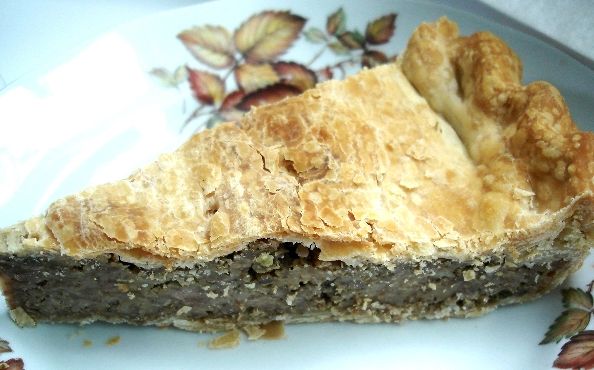 Ingredients
Flour

2 Cup (16 tbs)

Baking powder

2 1/2 Teaspoon

Salt

1 Teaspoon

Shortening

1/3 Cup (16 tbs)

Milk

3/4 Cup (16 tbs)

Ground beef

1/2 pound

Onions

2 Small

, chopped

Butter

2 Tablespoon

2 tomatoes, peeled and thinly sliced

1 tablespoon parsley or dill, minced

2 hard cooked eggs, finely chopped

Pastry dough

Milk or beaten egg

Salt

To Taste

Pepper

To Taste
Directions
In mixing bowl combine flour, baking powder, and salt.
Cut in shortening with pastry blender or 2 knives.
Stir in about 3/4 cup milk, or enough to make a dough that is soft but not sticky.
Set aside.
Saute meat and onions in butter until lightly browned.
Add tomatoes, parsley or dill, and salt and pepper to taste and simmer a few minutes.
Don't let tomatoes get too soft.
Remove from heat and stir in eggs.
Roll out dough thinly on lightly floured board and cut into squares.
Put a spoonful of meat mixture on each square and fold over into triangles.
Moisten edges with water and seal.
Brush with milk or beaten egg.
Bake at 400 degrees for 30 minutes.
If desired, serve with garlic flavored yogurt sauce.