»

Recipes

»

Meat

»

Meat Croquettes
Meat Croquettes Recipe
Meat Croquettes is a mouth watering side dish recipe. I am sure this tasty and irresistible Meat Croquettes dish will get you a lot of compliments!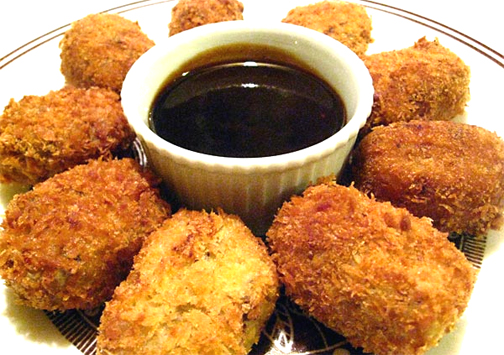 Ingredients
Butter

3 Tablespoon

Flour

5 Tablespoon

Beef broth

1 Cup (16 tbs)

Cooked lean veal

1⁄2 Pound

, shredded

Salt

1⁄4 Teaspoon

Ground black pepper

To Taste

Nutmeg

1 Dash

Worcestershire sauce

1⁄4 Teaspoon

Dry bread crumbs

1 Cup (16 tbs)

Egg whites

2

Oil

2 Cup (32 tbs)

(For Deep Frying)

Parsley sprigs

1

(For Garnish)
Nutrition Facts
Serving size: Complete recipe
Calories 1720 Calories from Fat 1064
% Daily Value*
Total Fat 120 g184.5%
Saturated Fat 43.5 g217.6%
Trans Fat 0 g
Cholesterol 257.8 mg
Sodium 1910 mg79.6%
Total Carbohydrates 95 g31.6%
Dietary Fiber 4.6 g18.6%
Sugars 4 g
Protein 64 g127.3%
Vitamin A 24.6% Vitamin C 3.3%
Calcium 15.6% Iron 44.5%
*Based on a 2000 Calorie diet
Directions
Heat butter, stir in flour and cook 2 minutes.
Gradually add the beef broth, stirring constantly until a smooth paste is formed.
Add the veal, salt, pepper, nutmeg and Worcestershire sauce.
Spread out On a flat surface and refrigerate until firm.
When set, cut into 8 equal parts and form cylinders 3" long and 1" in diameter.
Roll each in bread crumbs, then in beaten egg whites, then again in bread crumbs.
See that each croquette is completely coated with bread crumbs.
Deep fry in hot oil a few at a time for 3 to 5 minutes.