»

Recipes

»

Meatball

»

Meat Balls In Gravy
Meat Balls In Gravy Recipe
Mamas Spaghetti And Meatballs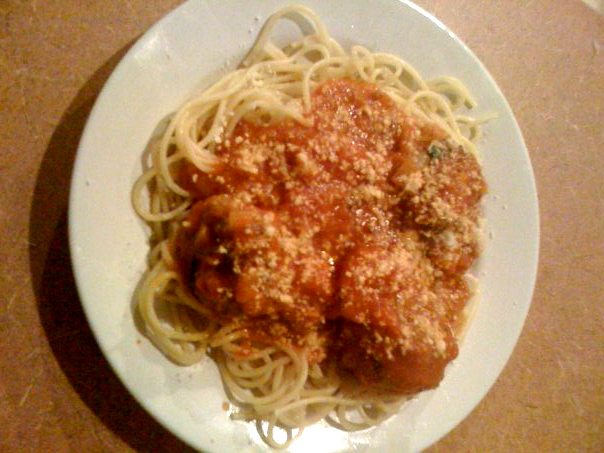 Ingredients
Minced beef

1 Pound

(450 Grams)

Onion

1

, finely chopped

Salt

To Taste

Freshly ground pepper

To Taste

White bread slice

2

Milk

2 Tablespoon

Egg

1

Butter

2 Ounce

(50 Grams)

Seasoned flour

1⁄2 Cup (8 tbs)

(As Required To Dredge)

Stock

3⁄4 Pint

(41/2 Deciliter)

Tomato puree

2 Teaspoon

Cornflour

1 Tablespoon

Vinegar

1 Teaspoon

Chopped parsley

1 Tablespoon
Nutrition Facts
Serving size
Calories 471 Calories from Fat 254
% Daily Value*
Total Fat 28 g43.7%
Saturated Fat 14.1 g70.4%
Trans Fat 0.9 g
Cholesterol 155.3 mg
Sodium 396.5 mg16.5%
Total Carbohydrates 25 g8.3%
Dietary Fiber 1.5 g6%
Sugars 2.1 g
Protein 29 g57.7%
Vitamin A 15.2% Vitamin C 13.2%
Calcium 5.2% Iron 20.4%
*Based on a 2000 Calorie diet
Directions
GETTING READY
1. Trim the crust from the bread slices.
2. In a small bowl, soak bread in milk for a few minutes.
3. Squeeze excess moisture.
4. In a large basin, combine minced beef onion seasoning, soaked bread and egg.
5. Mix thoroughly, preferably with the hands, until well blended.
6. Divide and roll the mixture twelve small meat balls, using oil greased hands.
7. Preheat the oven to 300°F (150°C or Gas No. 2)

MAKING
8. In a large frying pan, melt the butter.
9. Coat meat balls lightly with seasoned flour and add to the hot fat.
10. Fry sautéing by shaking the pan, until evenly browned.
11. Use a slotted spoon to transfer meatballs to a casserole.
12. Drain excess fat and deglaze pan with stock
13. Stir in tomato puree and heat to boiling point.
14. Pour over the meat balls.
15. Cover the casserole and transfer to the oven.
16. Cook for 1 hour.

FINALIZING
17. Just before serving, blend the cornflour with a little water to make a smooth paste.
18. Place the casserole over direct heat and stir in cornflour.
19. Heat on low flame, stirring lightly.
20. Adjust seasoning and add the vinegar if required.

SERVING
21. Dish out and garnish with parsley.
22. Serve with rice or noodles.