»

Recipes

»

Mayonnaise Dip
Mayonnaise Dip Recipe
Mayonnaise Dip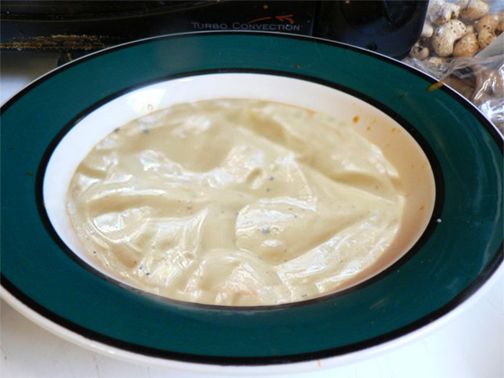 Ingredients
Egg yolk

1

Dry mustard

1 Pinch

Salt

To Taste

Pepper

To Taste

, milled

Freshly ground pepper

To Taste

Wine vinegar/Lemon juice

1 1⁄4 Teaspoon

Boiling water

1 1⁄4 Teaspoon

Salad oil

1⁄4 Pint

(1 1/2 Deciliter)

Water

1 Tablespoon
Nutrition Facts
Serving size: Complete recipe
Calories 1113 Calories from Fat 1097
% Daily Value*
Total Fat 124 g190.9%
Saturated Fat 7 g34.9%
Trans Fat 2.1 g
Cholesterol 185.1 mg
Sodium 404.8 mg16.9%
Total Carbohydrates 0.7 g0.23%
Dietary Fiber 0.04 g0.17%
Sugars 0.1 g
Protein 2 g4.9%
Vitamin A 4.3% Vitamin C 0.13%
Calcium 2.1% Iron 2.7%
*Based on a 2000 Calorie diet
Directions
MAKING
1. In a large non-metallic bowl, combine egg yolk and remaining ingredients except the oil.
2. Rest the bowl on a damp kitchen cloth to prevent it from sliding when whisking.
3. Measure the oil in a pouring cup or jar.
4. Whisk the yolk lightly with a wire whisk to blend with seasonings and vinegar.
5. Trickle the oil about a teaspoon at a time, whisking constantly.
6. Once the emulsion begins to thicken, pour the remaining oil in a thin steady stream, whisking continuously until the oil is incorporated and the mayonnaise is thick.
7. Add the boiling water and whisk to whiten the mayonnaise and thin the consistency if using it as a dressing.

SERVING
8. Use the mayonnaise as a dressing, dip or sauce as required.