»

Recipes

»

Jewish

»

Matzo Balls For Soup
Matzo Balls For Soup Recipe
These Matzo Balls For Soup are sure to transform your chicken soup from a simple girl-next-door to a hot model ! Well, the effect of these awesome Yiddish flatbread is such ! You must try out these powerful soup enhancers to know what I mean ! Feel free to share your views about the Matzo Balls For Soup with me.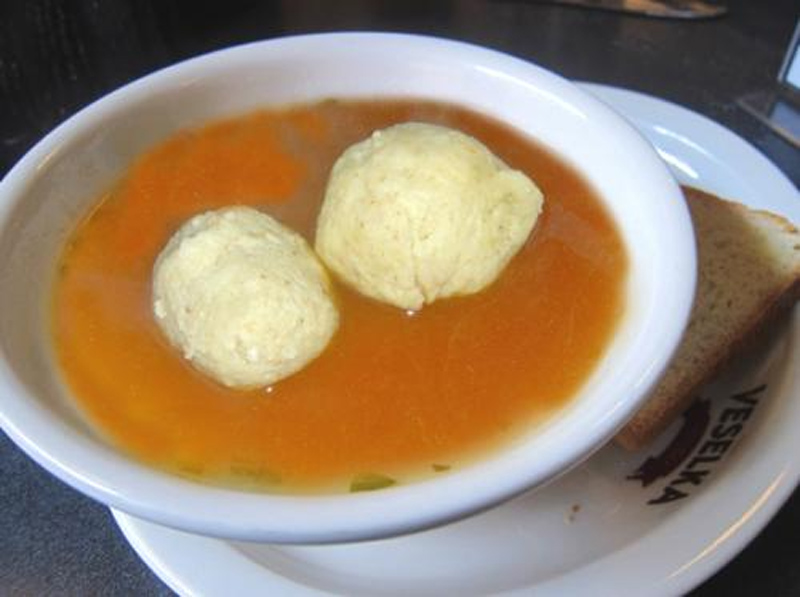 Ingredients
Matzo boards

2

, crumbled

Salt

3⁄4 Teaspoon

Eggs

4

, separated

Water

4 Quart

(Rapidly Boiling)

Chicken soup

4 Cup (64 tbs)

(4 Servings)

Chopped parsley

1 Tablespoon

(For Garnish)
Nutrition Facts
Serving size: Complete recipe
Calories 1380 Calories from Fat 687
% Daily Value*
Total Fat 76 g117.5%
Saturated Fat 21.8 g108.9%
Trans Fat 0 g
Cholesterol 923 mg
Sodium 8058.1 mg335.8%
Total Carbohydrates 118 g39.5%
Dietary Fiber 2.2 g8.7%
Sugars 7 g
Protein 54 g108.3%
Vitamin A 79.8% Vitamin C 34.9%
Calcium 27% Iron 92.2%
*Based on a 2000 Calorie diet
Directions
Place matzos in blender and blend to make fine meal.
Add salt.
Beat egg whites until stiff, and beat egg yolks separately until smooth and lemon-colored.
Fold whites into yolks, then fold in matzo meal.
Refrigerate for 1 hour.
With wet hands, divide mixture into 12 equal portions and shape each portion into a ball.
Drop into water and cook 20-25 minutes.
Remove balls with slotted spoon, and add to hot chicken soup.
Garnish with parsley.