»

Recipes

»

Matelote
Matelote Recipe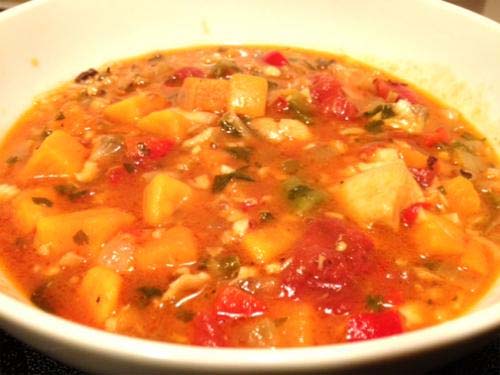 Ingredients
21b. halibut steaks

Carrot

1

, sliced

Onion

1

, minced

Garlic

2 clove

, halved

Salt

1 Teaspoon

Pepper

1/4 Teaspoon

Red wine

2 Cup(16 tbs)

Brandy

3 Tablespoon

Butter

3 Tablespoon

, melted

Flour

2 Tablespoon
Directions
Dry halibut steaks with absorbent paper; place in skillet.
Add carrot, onion, garlic, salt, pepper and wine; bring to a boil.
Bring brandy to a boil in small saucepan; ignite.
Pour brandy over halibut.
Cover pan when flame dies; simmer halibut for 20 minutes.
Remove to warm serving dish; keep hot.
Strain re- maining skillet mixture; reserve cooking liquid.
Blend butter and flour in small skillet.
Simmer, stir- ring constantly, until mixture is bubbly.
Remove from heat; stir in reserved cooking liquid gradually.
Cook over high heat, stirring constantly, until sauce thickens.
Cook for 2 minutes longer; pour sauce over halibut.
Serve with croutons browned in garlic but- ter, if desired.