»

Recipes

»

Potato

»

Great Mashed Potatoes
Great Mashed Potatoes Recipe
The bowl in which I serve Mashed Potatoes is always licked clean literally. Everyone at home, right from my mother, husband and kids love this Mashed Potatoes recipe. Make it your family's favorite too!
Mashed Potatoes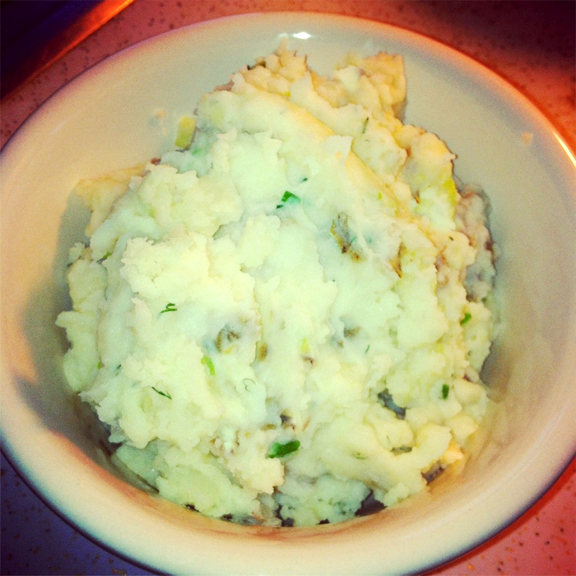 Ingredients
Potatoes

6 Medium

Water

1 Cup (16 tbs)

(Adjust Quantity As Needed)

Butter/Margarine

4 Tablespoon

, softened

Salt

1 Teaspoon

Pepper

1⁄4 Teaspoon

Hot milk

1⁄2 Cup (8 tbs)
Nutrition Facts
Serving size: Complete recipe
Calories 1298 Calories from Fat 469
% Daily Value*
Total Fat 53 g82%
Saturated Fat 33.2 g166%
Trans Fat 0 g
Cholesterol 140.3 mg
Sodium 2063 mg86%
Total Carbohydrates 197 g65.8%
Dietary Fiber 22.9 g91.5%
Sugars 14.1 g
Protein 25 g50.3%
Vitamin A 32.7% Vitamin C 340.8%
Calcium 26.8% Iron 45.3%
*Based on a 2000 Calorie diet
Directions
1. In 3-quart saucepan over high heat, heat potatoes and enough water to cover them to boiling. Reduce heat to low; cover and simmer 30 minutes or until potatoes are fork-tender; drain. Peel potatoes.
2. In large bowl, with mixer at low speed, beat potatoes, butter or margarine, salt, and pepper until fluffy. Gradually beat in milk until mixture is smooth.