»

Recipes

»

Masala

»

Masala Peanuts
Masala Peanuts Recipe
Masala Peanuts as the names suggests means sauteeing Peanuts/Groundnuts in Masala/Spices. This is a real quick and tasty snack. Though not recommended as a frequent snack (owing to high levels of cholesterol) this snack is surely a refreshing twist to the regular salted peanuts. Masala Peanuts can be made in just about 5 minutes and taste great with a squeeze of lime. Comments/Feedback/Suggestions on this 'Masala Peanuts' Recipe are welcome!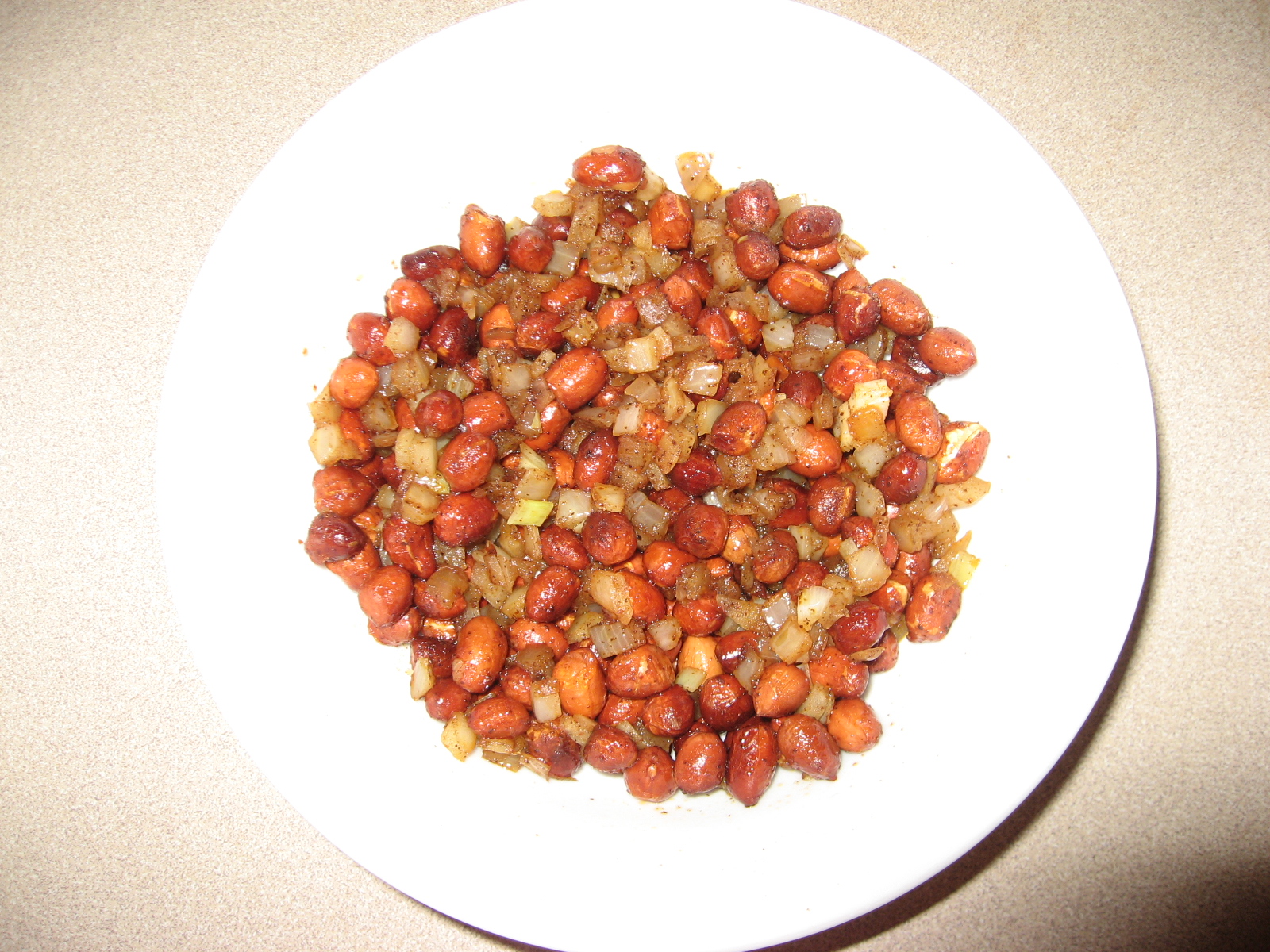 Ingredients
Peanuts

1 Cup (16 tbs)

Onions

1⁄4 Cup (4 tbs)

, chopped

Dhaniya/Coriander powder

3 Pinch

Garam masala powder

1⁄4 Teaspoon

Lemon juice

1 Tablespoon

Salt

To Taste
Nutrition Facts
Serving size
Calories 285 Calories from Fat 201
% Daily Value*
Total Fat 24 g37%
Saturated Fat 3.3 g16.7%
Trans Fat 0 g
Cholesterol 0 mg
Sodium 151.1 mg6.3%
Total Carbohydrates 10 g3.3%
Dietary Fiber 4.4 g17.7%
Sugars 2.7 g
Protein 13 g25.7%
Vitamin A 1.1% Vitamin C 5.9%
Calcium 5.4% Iron 12.6%
*Based on a 2000 Calorie diet
Directions
Heat 1 tbs oil in a skillet. Roast peanuts until they turn slightly brown.

Add dhaniya powder, garam masala powder, salt and chilly powder and saute well.

Add chopped onions and stir well. Do not cook the onions as they need to retain the crisp texture.

Remove and squeeze lemon juice just before serving.

Enjoy!