»

Recipes

»

Indian

»

Punjabi

»

Masala Chai
Masala Chai Recipe
Masala chai is one of those drinks that are healthful and tasteful at the same time. The addition of whole spices like cardamoms, cloves and cinnamon make this tea antioxidant rich and give it a very soothing aroma that wakens you.I love to kick start my mornings with this delicious and healthy tea!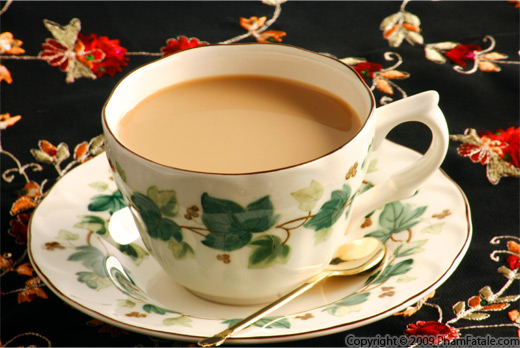 Ingredients
Tea powder

1 Teaspoon

Water

1 Cup (16 tbs)

Milk

1 Teaspoon

(Vary As Per Taste)

Cloves

2

Cardamom

2

Cinnamon stick

1

Black peppercorns

3

Sugar

To Taste
Nutrition Facts
Serving size: Complete recipe
Calories 22 Calories from Fat 2
% Daily Value*
Total Fat 0.28 g0.43%
Saturated Fat 0.11 g0.53%
Trans Fat 0 g
Cholesterol 0.5 mg
Sodium 9.2 mg0.4%
Total Carbohydrates 5 g1.7%
Dietary Fiber 1.6 g6.2%
Sugars 2.1 g
Protein 0.48 g0.96%
Vitamin A 0.2% Vitamin C 1.3%
Calcium 3.1% Iron 2%
*Based on a 2000 Calorie diet
Directions
1. Fill a large pot with water and add the whole spices. Bring it to a boil.
2. Now add the tea powder and let it simmer until the tea leaves start to release their colour and give off that pleasing aroma.
3. Add milk and simmer until you get the desired colour and strength. Don't simmer for too long unless you want your tea to be very strong. I usually simmer it for a minute or two after adding the milk :)
4. Now add sugar, pour your tea into a cup and enjoy.