»

Recipes

»

Paste

»

Fondant

»

Marzipan
Marzipan Recipe
A confectioners' delight, Marzipan is sure to take you back in time when mom or grandmom used to make it. Craft them into your favorite fruits and surprise your kids!
Marzipan Fruits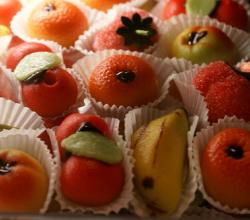 Ingredients
Almond paste

7 Pound

Light corn syrup

1/3 Cup (16 tbs)

Vanilla

1 Teaspoon

Marshmallow cream -1 1/4 c.

Confectioner's sugar

6 Cup (16 tbs)

Food coloring
Directions
MAKING
1) In a bowl, add almond paste, corn syrup, vanilla and marshmallow cream and mix till smooth.
2) Add in the confectioners' sugar, 1/2 cup at a time.
3) Knead till smooth and well blended.
4) Form small balls of dough and shape into various fruit shapes.
5) Dilute food coloring with water and use to paint fruits with a small brush.
6) Store in refrigerator or airtight container.

SERVING
7) When required, keep at room temperature for 30 minutes and then serve.