»

Recipes

»

American

»

Maryland

»

Maryland Crab Cakes
Maryland Crab Cakes Recipe
Maryland crab cakes are sauteed crab cakes prepared with bread and eggs. Seasoned and spiced with mustard, the crab cakes are shaped into patties and cooked to a nice golden color. Served with a sauce along with salads, they are filling and savory.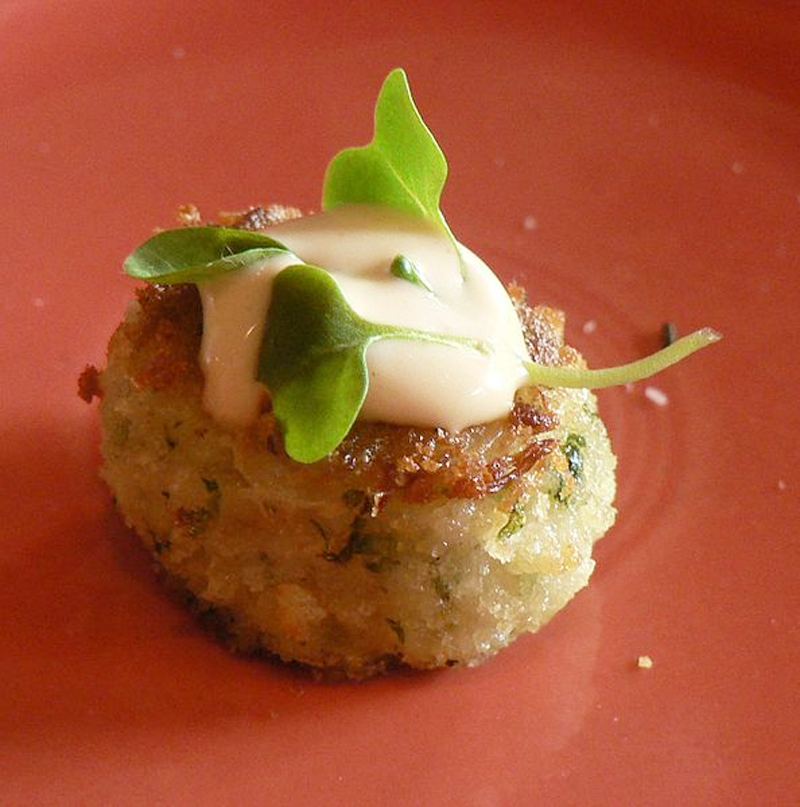 Ingredients
White bread slice

6

Olive oil

3⁄4 Cup (12 tbs)

Eggs

3

, separated

Dry mustard

1⁄4 Teaspoon

Salt

1⁄2 Teaspoon

Worcestershire sauce

2 Teaspoon

Crab meat

1 1⁄2 Pound

Paprika

1 Teaspoon

Butter

3 Tablespoon
Nutrition Facts
Serving size: Complete recipe
Calories 2821 Calories from Fat 1930
% Daily Value*
Total Fat 217 g333.7%
Saturated Fat 50.9 g254.6%
Trans Fat 0 g
Cholesterol 731.2 mg
Sodium 1953 mg81.4%
Total Carbohydrates 75 g25%
Dietary Fiber 4.5 g18.1%
Sugars 2.7 g
Protein 140 g279.2%
Vitamin A 90% Vitamin C 8.1%
Calcium 11.3% Iron 30%
*Based on a 2000 Calorie diet
Directions
Trim crusts from bread and lay slices on a shallow platter.
Pour oil over them and let stand until bread is thoroughly saturated.
Use forks to break into small pieces.
Combine egg yolks with mustard, salt, and Worcestershire sauce.
Beat lightly.
Stir in bread and crab meat, gently fold in stiffly beaten egg whites, and shape mixture into patties.
Sprinkle with paprika and saute in heated butter until golden on both sides.
Image Courtesy :
http://commons.wikimedia.org/wiki/File:Garnished_crabcake.jpg