»

Recipes

»

Asian

»

Marinated Shish Kabob
Marinated Shish Kabob Recipe
Enjoy this rightfully made and delicious Marinated Shish Kabob - an awesome treat to serve for any occasion. Let your guests bite in to this Marinated Shish Kabob and envy your culinary skills. Best served on Frankfusters rolls.
Marinated Shish Kabob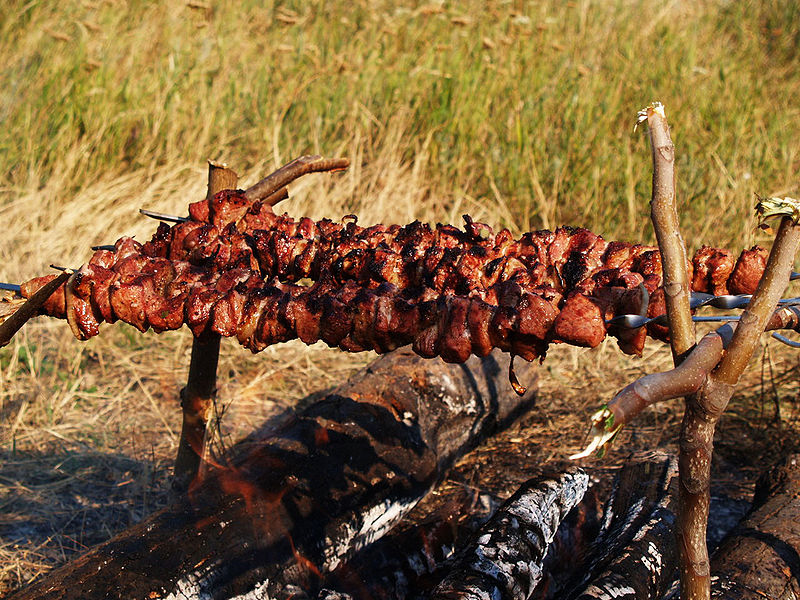 Ingredients
Mixed spices

1/2 Teaspoon

Poultry seasoning

1/2 Teaspoon

Salt

1/4 Teaspoon

Beef bouillon - 1 cup

Lemon rind - 1 1/2 teaspoons, grated

Lemon juice

11/2 Teaspoon

Onion slice

1

Lean leg of lamb - 1 1/2 pounds

Large onion - 1, sliced

Large green pepper - 1, sliced

Tomato

1
Directions
GETTING READY
1. In a large pan, combine the pickling spices, poultry seasoning, salt, beef bouillon, lemon rind, lemon juice and onion slice and heat till gently cooked through. Do not boil.
2. Preheat the grill

MAKING
3. Cut lamb in 2-inch cubes and combine with the marinade in a small bowl.
4. Set aside to marinate in a refrigerator for 24 hours turning several times.
5. Just before serving, skewer on to skewers with slices of onion, green pepper, meat and tomato.
6. Cook over hot coals 25 to 30 minutes, turning to cook uniformly.

SERVING
7. Serve hot on frankfurter rolls.