»

Recipes

»

Brisket

»

Marinated Barbecue Brisket
Marinated Barbecue Brisket Recipe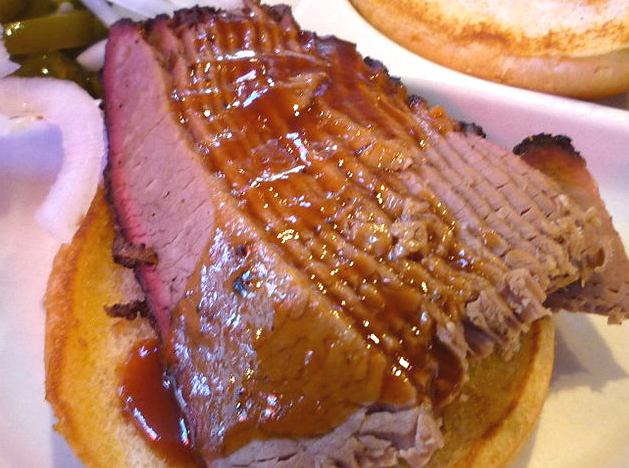 Ingredients
| | | |
| --- | --- | --- |
| | Fresh beef brisket | 5 Pound |
| | Unseasoned meat tenderizer | 2 Teaspoon |
| | Celery salt | 1⁄2 Teaspoon |
| | Seasoned salt | 1⁄2 Teaspoon |
| | Garlic salt | 1⁄2 Teaspoon |
| | Liquid smoke seasoning | 1⁄4 Cup (4 tbs) |
| | Worcestershire sauce | 1⁄4 Cup (4 tbs) |
| | Barbecue sauce | 1 1⁄2 Cup (24 tbs) |
Nutrition Facts
Serving size: Complete recipe
Calories 6147 Calories from Fat 3900
% Daily Value*
Total Fat 432 g665.1%
Saturated Fat 170.8 g853.9%
Trans Fat 0 g
Cholesterol 1542.1 mg514%
Sodium 7715.8 mg321.5%
Total Carbohydrates 106 g35.4%
Dietary Fiber 0 g
Sugars 70.4 g
Protein 418 g835.7%
Vitamin A 51.9% Vitamin C 57.2%
Calcium 21% Iron 234.5%
*Based on a 2000 Calorie diet
Directions
Place brisket on large piece of heavy-duty aluminum foil.
Sprinkle tenderizer and seasonings on both sides of meat.
Pour liquid smoke and Worcestershire sauce over top.
Cover and marinate in refrigerator 6 to 10 hours or overnight.
Place foil-wrapped brisket in crock pot (cut brisket in half, if necessary, to fit easily).
Cover and cook on low setting for 10 to 12 hours.
Chill brisket, then cut across the grain into thin slices.
Before serving, reheat in your favorite barbecue sauce.
Image Courtesy :
http://en.wikipedia.org/wiki/File:Brisket_(3849368711).jpg