»

Recipes

»

Fish

»

Herring

»

Marinated Herring
Marinated Herring Recipe
Marinated Herring is a mouth watering appetizer recipe. Try this Marinated Herring; I am sure you will get a lot of compliments for this one!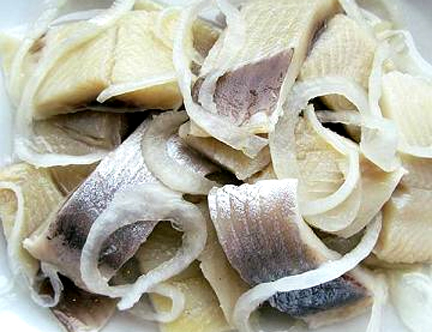 Ingredients
Herrings/6 herrings in brine

6

, filleted

Gherkins

12

Lemon

1

, thinly sliced

Onion

1 Medium

, cut in rings

Bay leaves

3

Vinegar

1 3⁄4 Cup (28 tbs)

Water

1⁄4 Cup (4 tbs)

Salt

1 Tablespoon

(Omit Salt If Using Herring In Brine)
Nutrition Facts
Serving size: Complete recipe
Calories 1175 Calories from Fat 502
% Daily Value*
Total Fat 56 g85.7%
Saturated Fat 12.6 g63.2%
Trans Fat 0 g
Cholesterol 360 mg
Sodium 6359.1 mg265%
Total Carbohydrates 38 g12.5%
Dietary Fiber 12.2 g48.8%
Sugars 13.5 g
Protein 112 g224.8%
Vitamin A 31.8% Vitamin C 116.4%
Calcium 47.5% Iron 58.8%
*Based on a 2000 Calorie diet
Directions
If using whole herring in brine, soak in cold water for 24 hours.
Remove the heads and tails and fillet the herring.
Roll each fillet around 1 gherkin.
Place the rolls in a clean glass jar or crock.
Arrange the lemon slices, onion rings and bay leaves between the rolls.
Combine the vinegar, water and salt in a saucepan, and bring to the boiling point.
Remove from the heat and cool.
Pour the cooled mixture over the herring rolls and cover the jar.
Let stand in the refrigerator 1 week before serving.
The rollmops will keep 3 to 4 weeks in the refrigerator.