»

Recipes

»

Marinara

»

Marinara Sauce
Marinara Sauce Recipe
Original Marinara Sauce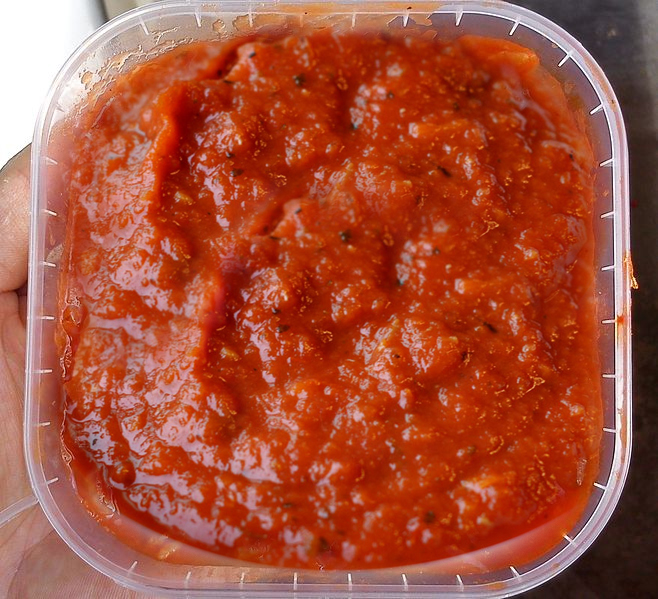 Summary
Preparation Time
10 Min
Cooking Time
2 Hr 0 Min
Ready In
2 Hr 10 Min
Difficulty Level
Medium
Health Index
Average
Servings
1
Ingredients
Olive oil/Vegetable oil

1⁄3 Cup (5.33 tbs)

Garlic cloves

1 Large

, peeled

Onions

2 Medium

, quartered

Parsley sprigs

4

Green pepper

1 Large

, cut into 12 pieces

Canned whole tomatoes

3 Pound

(3 Cans, 1 Pound Each)

Sugar

1 Tablespoon

Salt

2 Teaspoon

Oregano

1⁄2 Teaspoon

Pepper

1⁄4 Teaspoon
Nutrition Facts
Serving size: Complete recipe
Calories 1346 Calories from Fat 677
% Daily Value*
Total Fat 77 g118.3%
Saturated Fat 10.8 g54.2%
Trans Fat 0 g
Cholesterol 0 mg
Sodium 5710 mg237.9%
Total Carbohydrates 164 g54.7%
Dietary Fiber 37.3 g149.1%
Sugars 37 g
Protein 29 g58.2%
Vitamin A 215.1% Vitamin C 515.1%
Calcium 63.1% Iron 117%
*Based on a 2000 Calorie diet
Directions
GETTING READY
1. In a food processor, mince the garlic.
2. Add onions and parsley to the chopper bowl and finely chop. Remove this mixture into a bowl.
3. Coarsely chop the pepper. Remove on a plate
4. Coarsely chop the tomatoes. Remove into a bowl

MAKING
5. In medium (3 quart) saucepan heat oil over medium high heat.
6. Add garlic-onion-parsley mixture to the saucepan and sauté until soft and golden.
7. Tip in the chopped peppers and continue sautéing for about 10 minutes.
8. Stir the tomatoes into to vegetables along with the seasonings. Allow all the flavors to blend.
9. Reduce heat and simmer the sauce for almost 2 hours until it is reduces to a rich thick sauce.
10. The sauce will say well for 3-4 days in the refrigerated or freeze in an air tight, freezer friendly container.

SERVING
11. This sauce can be served with pasta, vegetables, fish, chicken or meat.