»

Recipes

»

Bread

»

Margaret's Hovis Bread
Margaret's Hovis Bread Recipe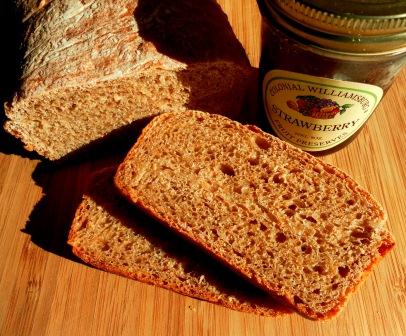 Ingredients
| | | |
| --- | --- | --- |
| | Whole wheat flour | 4 Cup (64 tbs) |
| | Wheat germ | 1 1⁄2 Cup (24 tbs) |
| | Baking powder | 4 Teaspoon |
| | Baking soda | 1 Teaspoon |
| | Salt | 1 Teaspoon |
| | Honey | 4 Tablespoon |
| | Milk | 3 1⁄2 Cup (56 tbs) |
Nutrition Facts
Serving size
Calories 763 Calories from Fat 113
% Daily Value*
Total Fat 13 g20.1%
Saturated Fat 4.8 g24.1%
Trans Fat 0 g
Cholesterol 19.8 mg
Sodium 1312.5 mg54.7%
Total Carbohydrates 141 g46.9%
Dietary Fiber 21.6 g86.3%
Sugars 23.3 g
Protein 34 g68.4%
Vitamin A 4.3% Vitamin C 0.12%
Calcium 65.4% Iron 46.8%
*Based on a 2000 Calorie diet
Directions
GETTING READY
1) Preheat the oven to 350°F.

MAKING
2) Mix all the dry ingredients together.
3) Add milk and honey to the dry ingredient mixture; mix well.
4) Spray oil into 3 - 1-pound coffee tins.
5) Fill the rings with the mixture.
6) Put greased foil of double thickness over the top of the coffee tins.
7) Bake at 350°F for 1 1/2 hours.

SERVING
8) Serve hot and crispy.