»

Recipes

»

Muffin

»

Maple Syrup Muffins
Maple Syrup Muffins Recipe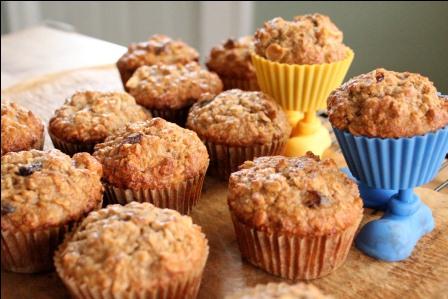 Ingredients
| | | |
| --- | --- | --- |
| | Margarine/Butter | 1⁄4 Cup (4 tbs) |
| | White sugar | 1⁄2 Cup (8 tbs) |
| | Salt | 1 Teaspoon |
| | All-purpose flour | 1 1⁄4 Cup (20 tbs) |
| | Baking powder | 2 Teaspoon |
| | Rolled oats | 3⁄4 Cup (12 tbs) |
| | Milk | 1⁄2 Cup (8 tbs) |
| | Maple syrup | 1⁄2 Cup (8 tbs) |
Nutrition Facts
Serving size
Calories 447 Calories from Fat 123
% Daily Value*
Total Fat 14 g21.3%
Saturated Fat 2.8 g13.8%
Trans Fat 0 g
Cholesterol 2.8 mg
Sodium 700.6 mg29.2%
Total Carbohydrates 77 g25.7%
Dietary Fiber 3 g11.9%
Sugars 50.5 g
Protein 6 g11.2%
Vitamin A 10.3% Vitamin C 0.02%
Calcium 25.6% Iron 12.4%
*Based on a 2000 Calorie diet
Directions
GETTING READY
1) Preheat the oven to 350°F.

MAKING
2) Soften the margarine and blend in the sugar and salt.
3) Add all the dry ingredients and blend with a pastry cutter until it crumbles.
4) Mix in the oats.
5) Blend milk and maple syrup together in a measuring cup and pour over the dry ingredients, stirring only to a moist mixture.
6) Bake at 350°F for 20 minutes.

SERVING
7) Make sure the muffins are well baked by inserting a fork. If the fork comes out clean then it is done.
8) Serve hot and crispy as breakfast option.