»

Recipes

»

Cake

»

Maple Pecan Bundt Cake
Maple Pecan Bundt Cake Recipe
From NIGELLA KITCHEN by Nigella Lawson. Photographs by Lis Parsons. Copyright (C) 2010 Nigella Lawson. Photographs copyright (C) 2010 Lis Parsons. Published by Hyperion. Available wherever books are sold. All Rights Reserved.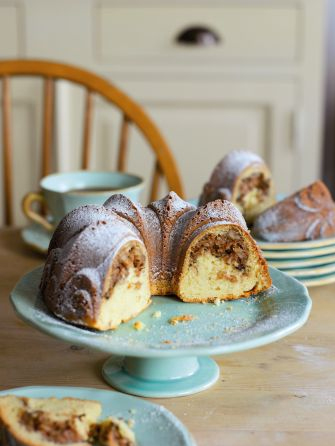 Ingredients
<b>For the Maple Pecan Filling:</b>

All purpose flour

1 Cup (16 tbs)

2 tablespoons soft unsalted butter

Ground cinnamon

1 Teaspoon

Pecans and walnuts

1 1/4 Cup (16 tbs)

, chopped

Maple syrup

1/2 Cup (16 tbs)

Baking soda

1 Teaspoon

Butter stick

1

Superfine sugar

3/4 Cup (16 tbs)

Eggs

2 Small

Sour cream

1 Cup (16 tbs)

1–2 teaspoons confectioner's sugar, for decoration

<b> For the Cake:</b>

Flavorless oil, for greasing

All purpose flour

2 Cup (16 tbs)

Baking powder

1 Teaspoon

1 x 10-inch (10 cups) bundt pan
Directions
Preheat the oven to 350°f. Using flavorless oil (or a squirt of baking spray) grease your bundt pan, and leave upside down on newspaper for the excess oil to drain out.
Make the filling for the cake by mixing together the H cup flour and 2 tablespoons butter with a fork, till you end up with the sort of mixture you'd expect when making crumble topping. Then, still using the fork, mix in the cinnamon, chopped pecans (or walnuts), and maple syrup, to form a sticky, bumpy paste. Set aside for a moment.
For the cake, measure the 2 cups flour, the baking powder, and baking soda into a bowl.
Now, cream the butter and sugar (i.e. beat well together until light in texture and pale in color), then beat in 1 tablespoon of the flour mixture, then 1 egg, then another tablespoonful of flour mixture, followed by the second egg.
Add the rest of the flour mixture, beating as you go, and then finally the sour cream. You should expect to end up with a fairly firm cake batter.
Spoon just more than half the cake batter into the oiled bundt pan. Spread the mixture up the sides a little and around the funnel of the pan to create a rim. You don't want the sticky filling to leak out to the sides of the pan.
Dollop the maple filling carefully into the dent in the cake batter, then cover the filling with the remaining batter. Smooth the top and put the tin into the oven for 40 minutes, though it's best to check with a cake tester after 30 minutes.
Credit: From Nigella Kitchen by Nigella Lawson. Copyright© 2010 Nigella Lawson. To be published October, 2010 by Hyperion.
Available wherever books are sold
. All Rights Reserved.