»

Recipes

»

Oatmeal

»

Maple Oatmeal Cookies
Maple Oatmeal Cookies Recipe
Maple Oatmeal Cookies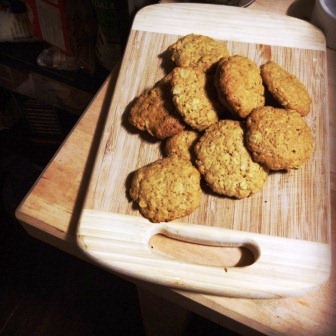 Ingredients
| | | |
| --- | --- | --- |
| | Butter | 1 Cup (16 tbs) |
| | White sugar | 1⁄2 Cup (8 tbs) |
| | Brown sugar | 1⁄2 Cup (8 tbs) |
| | Egg | 1 |
| | Maple syrup | 1⁄4 Cup (4 tbs) |
| | Oatmeal | 1 Cup (16 tbs) |
| | Flour | 2 1⁄2 Cup (40 tbs) |
| | Baking soda | 1 Teaspoon |
| | Salt | 1⁄2 Teaspoon |
| | Cloves | 1⁄2 Teaspoon |
| | Ginger | 1⁄2 Teaspoon |
Nutrition Facts
Serving size: Complete recipe
Calories 4150 Calories from Fat 1676
% Daily Value*
Total Fat 197 g302.6%
Saturated Fat 117.6 g588.2%
Trans Fat 0 g
Cholesterol 695.3 mg
Sodium 2447.8 mg102%
Total Carbohydrates 558 g186%
Dietary Fiber 14.6 g58.3%
Sugars 248.2 g
Protein 53 g105%
Vitamin A 117.3% Vitamin C 0.7%
Calcium 107.6% Iron 356.1%
*Based on a 2000 Calorie diet
Directions
GETTING READY
1) Preheat oven to temperature of 375 degrees.

MAKING
2) Cream the butter and add the egg, maple syrup and sugar.
3) Combine together all the dry ingredients and add the mixture to a butter-egg mixture.
4) Mix well together.
5) Roll the concoction into balls and use a fork to flatten.
6) Bake in preheated oven for about 12 to 14 minutes, till the cookies are golden brown.

SERVING
7) Serve as preferred.