»

Recipes

»

American

»

Maple Glazed Pork Tenderloins
Maple Glazed Pork Tenderloins Recipe
This is an amazing Maple Glazed Pork Tenderloins recipe. This delicious pork preparatoon is sure to win your cooking quiet a few fans. Try the Maple Glazed Pork Tenderloins for your next party.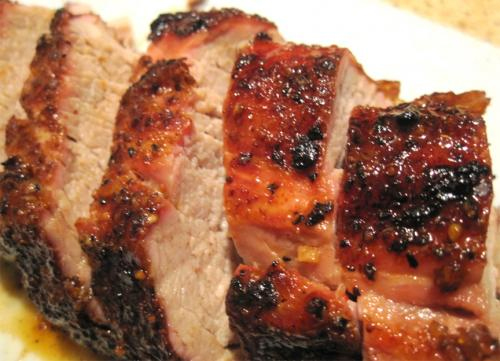 Ingredients
Salt

2 Teaspoon

Pepper

1/4 Teaspoon

2 pork loin tenderloins

Bacon Slices

6

1/2 cup maple or maple-flavor syrup
Directions
1. Rub salt and pepper into pork tenderloins; place in bowl; cover and refrigerate at least 4 hours.
2. About 1 hour before serving, prepare outdoor grill for barbecuing.
3. Place tenderloins together to make a long piece of meat of even thickness; wrap with bacon; secure with skewers.
4. Place tenderloins on grill over medium heat; cook 25 to 30 minutes, brushing frequently with syrup and turning meat occasionally, until browned and tender (internal temperature of meat should be 170°F. on meat thermometer). Remove skewers before serving.