»

Recipes

»

Chowder

»

Traditional Manhattan Clam Chowder
Traditional Manhattan Clam Chowder Recipe
Manhattan clam chowder is an American style clam chowder. Prepared with bacon, the manhattan clam chowder is herbed and cooked with vegetables. Seasoned and served hot, it is appetizing and very savory.
Manhattan Clam Chowder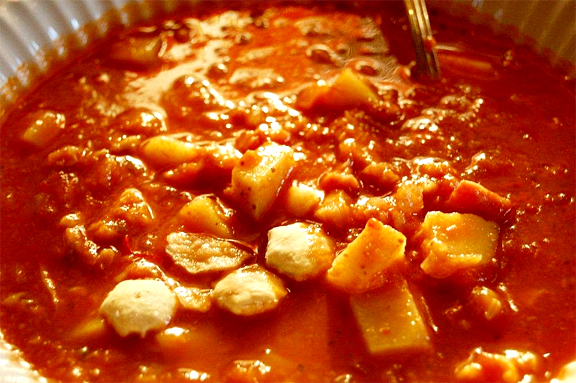 Ingredients
1/2 pound bacon, chopped fine

1 pint clams in liquor

Salt

2 Teaspoon

4 medium onions, chopped fine

Ground pepper

1/4 Teaspoon

4 carrots, chopped fine

Dried thyme

1 1/2 Teaspoon

2 stalks celery, chopped fine

Bay Leaf

1

3 medium potatoes, diced fine

Parsley

2 Tablespoon

, chopped

Tomatoes

1 Can (10oz)
Directions
Fry bacon in a large saucepan or kettle until almost crisp.
Toss in onions and cook until they take on color.
Next, stir in carrots, celery, and parsley and cook over a low heat for about 8 minutes.
Drain tomatoes, putting liquid into a'measuring cup.
Add tomato pulp to saucepan.
Drain clams, mixing the liquor with the tomato liquid.
Add enough water to make 1 1/2 quarts of liquid and pour into saucepan.
Season with salt, pepper, thyme, bay leaf, and cook to a boil.
Reduce heat and simmer gently for 40 minutes.
Add potatoes, cover, and cook about 20 minutes.
Finally, add the clams, chopped, and simmer 15 minutes longer.