»

Recipes

»

Mango

»

Mango Phirni
Mango Phirni Recipe
An easy-to-make pudding for Mango lovers!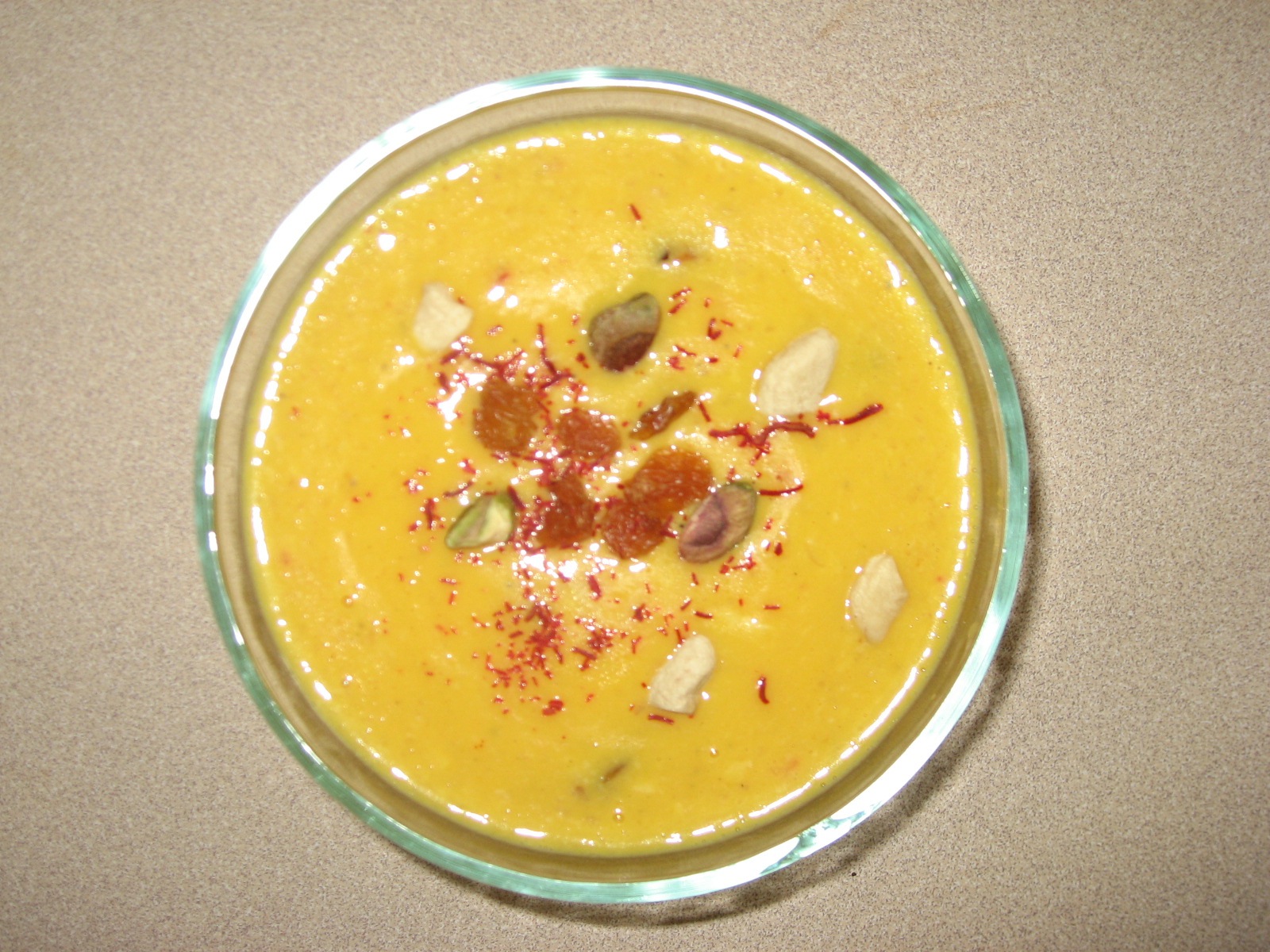 Ingredients
Mango pulp

1⁄2 Cup (8 tbs)

Rice grains

2 Tablespoon

Whole milk/2% reduced fat milk

2 Cup (32 tbs)

Sugar

1 Cup (16 tbs)

Elaichi/Cardamom powder

1⁄4 Teaspoon

Nuts

3 Tablespoon

(Almonds, Kishmish, Pistachios, Cashews)

Clarified butter/Ghee

1 Tablespoon

Saffron

1 Teaspoon
Nutrition Facts
Serving size
Calories 342 Calories from Fat 98
% Daily Value*
Total Fat 11 g16.6%
Saturated Fat 4.3 g21.7%
Trans Fat 0 g
Cholesterol 17.1 mg
Sodium 69.8 mg2.9%
Total Carbohydrates 58 g19.4%
Dietary Fiber 1 g4.2%
Sugars 50.3 g
Protein 6 g11.8%
Vitamin A 1.9% Vitamin C 1.4%
Calcium 11.9% Iron 1.3%
*Based on a 2000 Calorie diet
Directions
Coarse grind rice grains such that each grains breaks into 2 or 3 pieces.

Boil Milk and add the ground rice grains and cook for about 10 minutes stirring in-between. Add sugar and cardamom powder and continue cooking until the rice seems cooked (approx another 5 minutes).

Heat a small wok. Add clarified butter, once it melts, add the nuts and give it a stir. Remove as soon as nuts begin to change color and add it to the cooked rice-milk mixture.

Let it cool. Add mango pulp and milk well. Garnish with saffron and refrigerate for at least 1 hour.

Serve chilled.