»

Recipes

»

Mango Marmalade
Mango Marmalade Recipe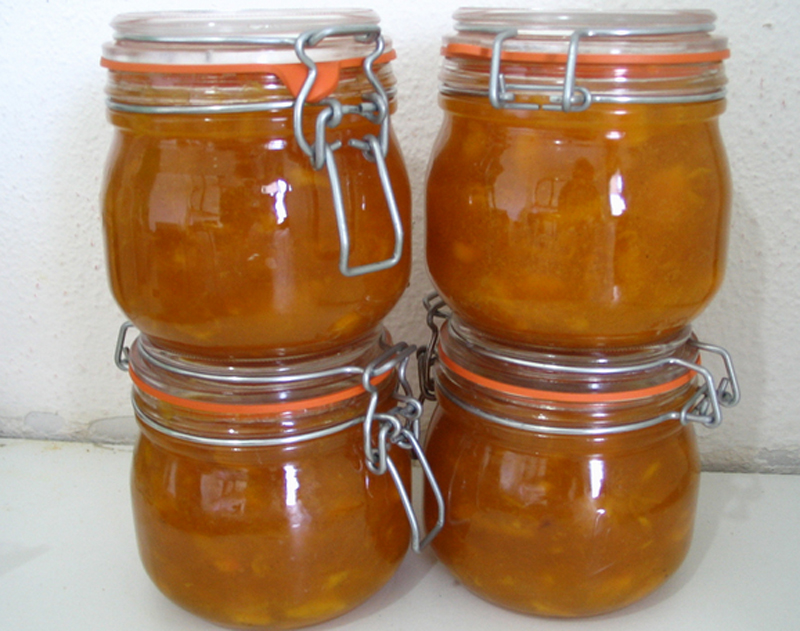 Summary
Preparation Time
15 Min
Cooking Time
15 Min
Ready In
30 Min
Difficulty Level
Easy
Ingredients
Lemon

1⁄2 Large

Orange

1⁄2 Large

Orange juice

1⁄2 Cup (8 tbs)

Ripe mangoes

5 Cup (80 tbs)

, diced

Sugar

3 Cup (48 tbs)

Whole cloves

12

Whole allspice

4

Whole cardamom

2
Directions
GETTING READY
1) Slice lemon and orange very thin. Cut in half again.

MAKING
2) In a large heavy saucepan mix orange and lemon, orange juice, diced mangoes and sugar.
3) Add the spices in a cheesecloth bag and tie it.
4) Add it to the mixture.
5) Stir and bring to boil.
6) Boil rapidly at 220°F to 222°F to jellying point. Stir frequently.
7) Discard the spice bag.
8) Immediately pour boiling hot marmalade into hot sterilized jars, leaving 1/4-inch headspace.
9) Seal immediately.

SERVING
10) Serve as desired.
Image Courtesy :
http://www.flickr.com/photos/arriabelli/2234740915/

anaon says :
What do you do with the sliced orange and lemon?
Posted on:
1 August 2012 - 6:47am
The sliced orange and lemon are added to the pan along with the juice, mango and sugar. The citrus fruit peels and mango add pectin to the mixture and help it to become into a jelly.
Posted on:
2 August 2012 - 3:21am