»

Recipes

»

MAMA SITA's SERIE – LUMPIANG SARIWA
MAMA SITA's SERIE – LUMPIANG SARIWA Recipe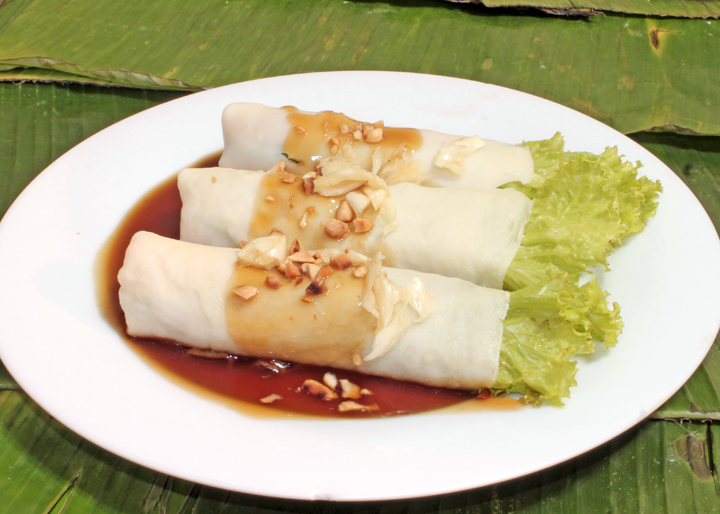 Ingredients
Yam bean

7 Ounce

, shredded (200 Gram)

Yam bean

7 Ounce

, roughly shredded (200 Gram)

Sweet potato

7 Ounce

, roughly shredded (200 Gram)

Sweet potato

7 Ounce

, shredded (200 Gram)

Carrots

3 9⁄20 Ounce

, roughly shredded (100 Gram)

Carrots

4 Ounce

, shredded (100 Gram)

Green beans

5 1⁄4 Ounce

, cut in half diagonally (150 Grams)

Cabbage

8 3⁄4 Ounce

, shredded (250 Gram)

Shredded cabbage

8 3⁄4 Ounce

(250 Gram)

Wheat flour

1 Cup (16 tbs)

Pang gisa mix

1 Ounce

(1 Pouch, Mama Sita'S)

Egg

2

, beaten

Seed oil

1⁄4 Cup (4 tbs)

Brown sugar

1⁄2 Cup (8 tbs)

Water

1 Cup (16 tbs)

Water

2 Cup (32 tbs)

Water

2 Cup (32 tbs)

Soy sauce

2 Tablespoon

Cornstarch

4 Tablespoon

Cornstarch

4 Tablespoon

Garlic

1⁄4 Cup (4 tbs)

, crushed

Peanuts

1⁄2 Cup (8 tbs)

, roasted & crushed
Nutrition Facts
Serving size
Calories 311 Calories from Fat 97
% Daily Value*
Total Fat 11 g17.2%
Saturated Fat 1.7 g8.7%
Trans Fat 0 g
Cholesterol 42.3 mg
Sodium 211.8 mg8.8%
Total Carbohydrates 49 g16.3%
Dietary Fiber 5.8 g23.1%
Sugars 13.2 g
Protein 7 g13.6%
Vitamin A 92% Vitamin C 25.9%
Calcium 7.3% Iron 14.5%
*Based on a 2000 Calorie diet
Directions
Filling directions:

Add the water and yam in a wok, bring to a boil and simmer until half cooked.
Add the rest of the ingredients and stir well.
Cover and cook briefly until the vegetables are tender.
Wrapper direction:

In a bowl, combine all dry ingredients and make a well in the center.
Gradually mix in egg, water and oil. Stir until it forms a smooth batter.
Pour onto a heated 6-inch Teflon pan, approximately ¼ cup at a time.
With the help of a ladle, form a thin round layer of batter and let cook until solid
Turn once the wrapper and cook the other side for few seconds.
Sauce direction:

In a small pan, caramelize sugar until it turns dark amber in color.
Add the water and stir until sugar has dissolved.
Add salt and soy sauce add the cornstarch previously dissolved with some water.
Bring to a boil and cook until sauce thickens.
Dressing of the rolls:

Place one wrapper on a flat surface.
Add one leaf of lettuce in the center, letting it overflow from one side.
Add 1 ½ tbsp. of filling mixure in the center and wrap the bottom part of the roll upwards.
Proceed to close from left to right and then wrap within the filling keeping tight to form a complete roll.
Align the rolls on a serving dish and pour all over the sauce.
Top with garlic and peanuts to taste.