»

Recipes

»

Bread

»

Malt Bread
Malt Bread Recipe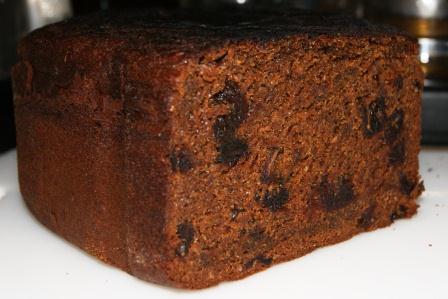 Ingredients
Sugar

3 Teaspoon

Warm water

3 Cup (48 tbs)

Dried yeast

3 Tablespoon

Molasses

1⁄3 Cup (5.33 tbs)

Malt

1⁄2 Cup (8 tbs)

Oil

1⁄3 Cup (5.33 tbs)

Raisins

1 1⁄2 Cup (24 tbs)

Egg

1

, beaten

Salt

2 Teaspoon

White flour

2 Tablespoon
Nutrition Facts
Serving size
Calories 556 Calories from Fat 188
% Daily Value*
Total Fat 21 g32.8%
Saturated Fat 3 g15%
Trans Fat 0 g
Cholesterol 52.9 mg
Sodium 1022.9 mg42.6%
Total Carbohydrates 91 g30.2%
Dietary Fiber 5.1 g20.3%
Sugars 61.8 g
Protein 9 g17.6%
Vitamin A 1.2% Vitamin C 2.9%
Calcium 11.4% Iron 28.1%
*Based on a 2000 Calorie diet
Directions
GETTING READY
1) Preheat the oven to 350°F (177°C)

MAKING
2) In the cup of warm water, dissolve the sugar.
3) To the sugar solution, add yeast and stir well.
4) Let it soften for about 10 minutes.
5) Mix 2 cups of warm water and remaining ingredients in a large saucepan/bowl
6) Add the softened yeast to the ingredients in the bowl and stir well.
7) With a spoon, beat in the 3 or 4 cups white flour and mix it well.
8) Gradually add 3 more cups flour (If required, add even more)
9) Now, place dough on a counter and knead well for about 5 minutes
10) If necessary, keep adding more flour till the dough is not sticky neither too stiff.
11) Form the dough into a ball and place it in a greased bowl large enough to allow for doubling in bulk
12) Cover the dough lightly with Saran wrap/film.
13) Keep the dough at room temperature (80-85 °F, 26-30°C) for around 1 ½ hours.
14) Push the dough down and shape into a ball.
15) Form 4 separate balls from the big one, kneading all the time.
16) Have the edges cut and place it seam down on counter.
17) Keep it covered till bread is at top of tin – do not let it rise above it
18) Bake the dough at 350°F in the preheated oven for about 50 minutes (until it is brown and the bottom of the loaf is firm)
19) Remove this from the tins and allow it to cool

SERVING
20) Serve hot.

TIP
Gas ovens brown faster – using old or dark tins lets the bread brown better.